When Do I Replace My Roof?
Roofs have a limited lifespan and can deteriorate over time, especially in harsh weather conditions. If a roof is nearing the end of its expected lifespan, it may start showing signs of damage such as leaks, missing shingles, or sagging. Replacing the roof can prevent further damage to the home's interior and protect against water infiltration
If your roof is damaged and you need a roof replacement, it's important to act quickly. If you don't, your home and belongings could suffer serious structural damage. Think about it, the roof is the first point of contact between your home and the outdoor elements. If you have a problem with your roof, no matter how big or small, you could potentially have a messy situation to deal with!
The best way to keep both your home and family protected is to install a high-quality roof. Volpe Enterprises, Inc. is your one-stop shop for all of your roof replacement and roof repair needs. We provide cedar shake roofing, architectural shingles, flat roofing, metal roofing, and slate roofing services. With an amazing selection of styles and colors to meet any budget, you're sure to find an option you will love! Conveniently able to come to you, we can estimate the cost of your project, assist in selecting the right roof for your home, and schedule the installation of your new roof. Or visit our North Wales Showroom for a full view of our product line.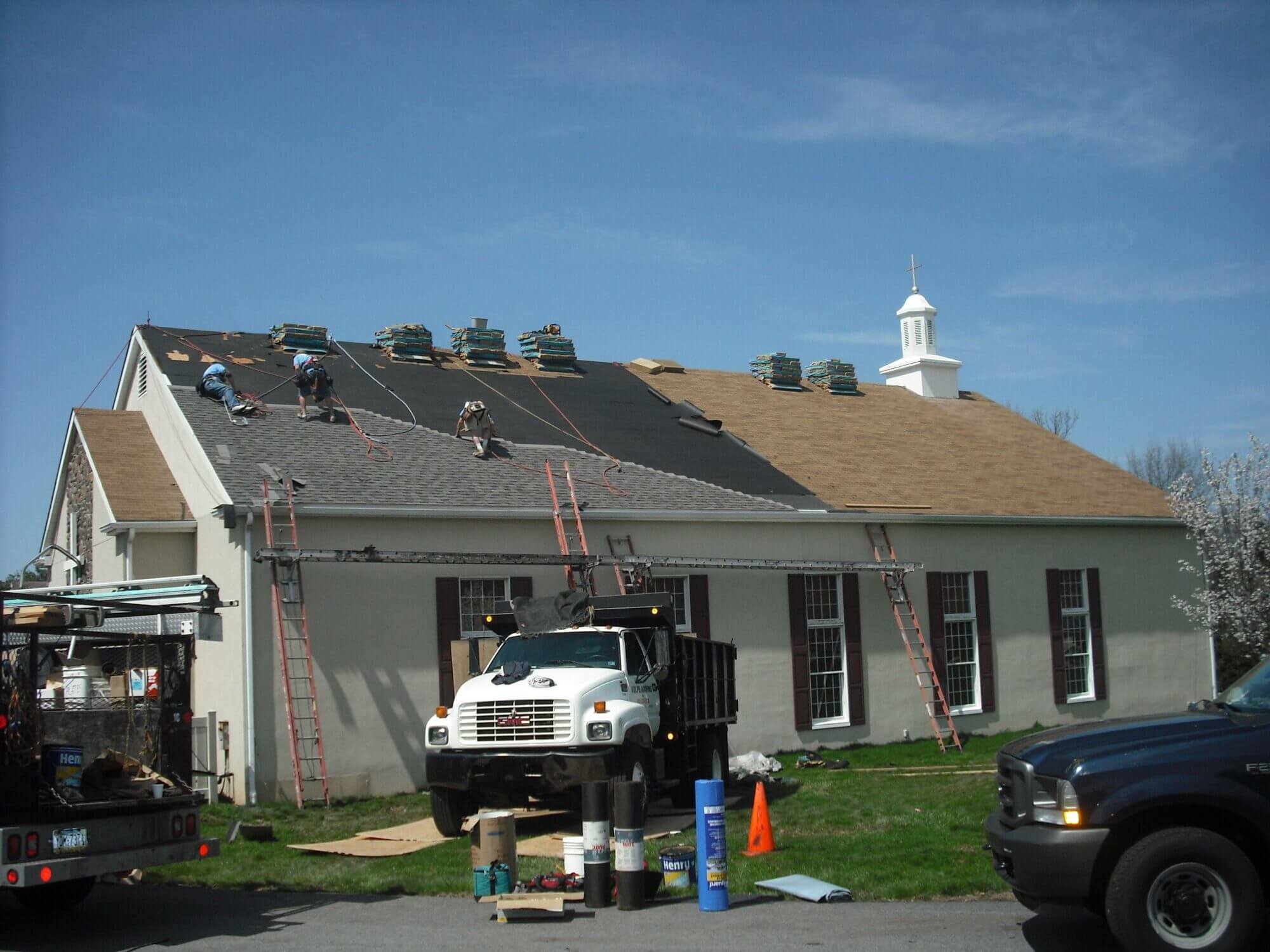 Now Through June 30th
0% APR FOR 60 MONTHS* ON YOUR ROOF REPLACEMENT
REQUEST A QUOTE:
Choose the Right Roof REPLACEMENT Design
Choosing the right roof replacement design provides important aesthetic value to your home. With our wide range of available styles, Volpe Enterprises can help you choose what's best for your home. Different types of roofs also serve individual needs, so it's important to find which works best for you. For example, a pitched roof can be unstable in high winds, but will easily shed water and snow. Each type of roof provides a unique solution so our Project Consultants will help you choose the right roof design for your home.
Roof Replacement Steps
Replacing your roof is a simple process that involves a few steps to make sure that you have a solid, watertight foundation and a beautiful new roof. 
We evaluate your existing roof and determine its condition, including signs of damage or wear. We'll assess the overall state of all the parts of the roof, including the decking, underlayment, and shingles (or other roofing material). 

You'll sit down with a specialist who will help you choose the materials to use on your replacement roof. We offer options such as asphalt shingles, cedar shingles, slate, and metal roofing. We'll walk you through the cost, durability climate, and aesthetics before you make your decision. 

We'll obtain or order any necessary permits.

Our roofing replacement team will

remove the old roof by stripping it down to the decking. We then carefully dispose of the old materials according to local regulations. 

We inspect and repair any damage to the decking to ensure a solid foundation for your new roof. 

Our certified roofing technicians will install the chosen roofing replacement materials according to manufacturer instructions and any local building codes. 

The final step is inspection and your approval. 
Our warranty = PROTECTION FOR YOUR INVESTMENT
Volpe Enterprises offers a roof warranty with every roof replacement. Our Limited Workmanship Warranty ensures that you will receive a quality product provided by quality professionals. Volpe Enterprises is also nationally recognized as a 5-Star CertainTeed Select ShingleMaster. This exclusive title is only given to the top 1% of roofers in the country. 
Being in business since 1970, we only expect the best from our technicians and service. As an established business in the community, we're known for providing quality service at competitive prices. With our reliable materials and trustworthy workmanship, we can give you a roof that shields you from the elements and protects your home. Best of all – our roof warranty ensures your ultimate satisfaction.
For the best roof replacements in Bucks County, Chester County, Montgomery County,  South Eastern Pennsylvania and New Jersey, don't hesitate to call Volpe Enterprises, Inc. 
*The Home Projects Visa credit card is issued by Wells Fargo Bank, N.A., an Equal Housing Lender. Special terms for 5 years (60 months) apply to qualifying purchases of $2,500 or more charged with approved credit. The special terms APR will continue to apply until all qualifying purchases are paid in full. The monthly payment for this purchase will be the amount that will pay for the purchase in full in equal payments during the promotional (special terms) period. The APR for Purchases will apply to certain fees such as a late payment fee or if you use the card for other transactions. For new accounts, the APR for Purchases is 28.99%. If you are charged interest in any billing cycle, the minimum interest charge will be $1.00. This information is accurate as of 02/01/2022 and is subject to change. For current information, call us at 1-800-431-5921. The offer expires 6/30/2023. Offer not to be combined with any other discounts, offers, specials, or 0% payment plans and is not valid on previously signed contracts.