Commercial Roof Installation
Our team of highly skilled professionals possesses extensive knowledge and experience in commercial roofing, ensuring that you receive the utmost craftsmanship and reliable installations. With our attention to detail, proactive maintenance programs, and prompt customer support, we guarantee your satisfaction and peace of mind. Trust us to protect your investment with reliable and long-lasting commercial roofing solutions. 
Commercial Roofing Company
Volpe Enterprises provides commercial roof installation, repair, and maintenance services for many structures, including condominiums, office buildings, malls, retail stores, shopping centers, churches, schools, municipal buildings, warehouses, and restaurants.
Commercial Roof Inspections
Volpe Enterprises can provide a trustworthy roof inspection that you'll be able to count on.
After the inspection, our experts will help you select the commercial roof that provides the best protection for your property.
We are experienced at servicing many types of commercial roofing systems, including:
Commercial Flat Roofs
Unlike traditional sloped roofs, flat roofs have a low or minimal slope, allowing for a horizontal or nearly horizontal surface. These roofs are popular in commercial applications due to their cost-effectiveness, accessibility, and versatility in accommodating HVAC systems, solar panels, and other equipment.
Flat roofs are frequently subjected to harsh weather and heavy traffic, requiring roof replacement, roof repair, and other maintenance work. They're especially susceptible to standing water, which is the reason it is important to install durable roof membranes and drains.
Roof replacement is the best solution for a commercial flat roof that is damaged or worn-out. It can be accomplished by either removing the old roofing and replacing it with a new one, or by installing a new commercial roofing system over the current roof.
If your existing roof systems just need a little TLC, repairing it might be the best option. Typically, flat roofs are repaired by reinforcing the damaged area with a sturdy patching material.
Flat Roof Service & Installation
Commercial roof maintenance and installation, particularly with a flat roof, is a highly specialized field that must address drainage and coverage issues.
Volpe Enterprises can install a single ply roof membrane or a built-up roof on a flat or low slope surface, as well as service all types of flat roofs. Read more about our flat roof process.
Asphalt Shingles
Commercial roofs with asphalt shingles are built to last longer than residential roofs. Because of this, a new commercial roof installation is a wise long-term investment. Typically, their lifespan is 15-25 years, but it's possible that your roof could last up to 40 years if properly maintained and installed.
However, asphalt shingles have a significant disadvantage: roof leaks. This is the reason it is critical to have a dependable roof coating that protects your shingles from moisture damage. If you don't have one, a leak can cause significant water damage to the building and its contents. In addition, this damage can also be expensive to repair. Regular commercial roof inspections are important to keep your roof water tight.
Commercial Asphalt Shingles
Despite this, asphalt shingles remain an excellent cost-effective option. If you'd like to learn more, give us a call, one of our knowledgeable pros can answer any questions you may have. They can help you match the right shingle to your building's style, size, and décor.
Commercial Slate Roofs
Durable and beautiful, Slate is a natural stone that has been used in roofing for centuries. Unlike their predecessors, modern slate roof panels are modified to be lighter and more affordable, while still delivering the elegant look and long life that you would expect from a slate roof. Because of this, slate is especially appropriate for historical buildings.
Slate roofs are a great option for commercial buildings because they are extremely durable and can last a lifetime. The material has been shown to be resistant to fire, heat, and water damage, all of which can damage your building and cause costly repairs.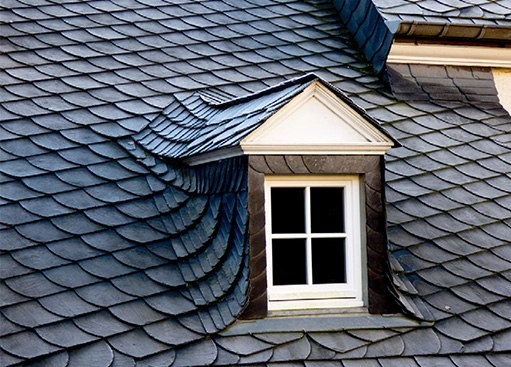 Although more expensive than other options, slate roofs can add a classic touch to your building and can be used on any commercial property. With rugged durability as well, you won't have to worry about repairing or replacing your roof for decades. For more information, give us a call, one of our team members will be happy to help.
COMPLETED ROOFING PROJECTS
Volpe Enterprises has been locally operated since 1970. Throughout that period, we have successfully completed various commercial roofing projects and installed roof systems at multiple locations. View the examples of our projects below!
Commercial Roofing Company – Trust Our Expertise
Commercial roof systems do differ from residential roofs. While they both share similar primary functions, they ensure the overall health of the building and offer protection from the elements for people within, at the same time, those two roofing systems have many dissimilarities.
Roofing systems used with commercial properties often cover extensive buildings. Commercial roofs are frequently flat or slightly sloped. Therefore, when choosing commercial flat roofs, you need to pay attention to factors that include external aspects (i.e., weather conditions) and roofing systems features (i.e., energy efficiency, durability).
On the market, numerous commercial roofing systems are available, each with various characteristics. You don't have to spend long hours on the research, trying to guess which commercial roofing systems are appropriate for your facility, instead, consider asking an expert for advice.
Volpe Enterprise specialists have the experience in the roofing industry to readily recommend the optimal roofing system, whether you are seeking roof coatings for a new or existing building. Ask us about the installation method, roofing membrane, cooling costs, and fire or ultraviolet light resistance.
While there are many commercial roofing contractors, Volpe Enterprises can boast over 50 years of hands-on experience. Trust our expertise. You don't have to look for other services. Contact us immediately, and we will make your case our top priority!
Commercial Roofing Contractors – How To Make The Best Decision?
Choosing the best of many contractors available in the roofing industry may seem challenging, especially when undertaking a new enterprise. As a building owner or project manager, you want to select excellent components and find a professional company that delivers quality solutions on time and within a predefined budget.
Here are five things you need to consider if you are looking for a commercial roofing contractor:
Company's reputation. Check online opinions. Your contractor doesn't have to receive glowing reviews exclusively, but they should be able to maintain a high average rating value. Check star ratings and read the opinions, it will tell you a lot about the overall business quality and if other customers are satisfied with the company's services.
Does the company meet the legal requirements? Before you make your choice on a roof system, ensure that your contractor fulfills legal prerequisites. Licensing and insurance coverage is as necessary as building materials!
Experience and expertise. Although those components don't warrant success, they can be an essential indicator that a company is efficient. In some cases, they may be a decisive factor in your choice of a commercial roofing contractor.
Warranty and maintenance services. Check if there are benefits available for you after the job is finished. For example, using proper maintenance may extend the durability of your commercial roofing installation. Also, a warranty can ensure you are secure in case of unexpected events.
Look for local companies. The benefit is clear. A local firm can visit a job site even before the project starts, communication is more fluid, and you can promptly discuss burning issues. In addition, local contractors are likely to know the weather within your area, which helps them choose suitable building materials.
Whether your efforts are dedicated to complex commercial metal roofing systems or your project is plain and simple, choosing the right contractor is always the first step toward successfully installing commercial roofing systems!