Volpe Enterprises, Inc. offers many types of roofing products. Whether you're looking for something particular or want to know what best suits your home, we can provide you with elite service and top of the line installation. The options we currently have available are:
It's important to not neglect any damage as roofs are an important part of a home's maintenance plan. Anyone who has experienced roof damage knows, firsthand, that it can cause major household disruptions, cosmetic damage and even structural damage in a relatively short period of time.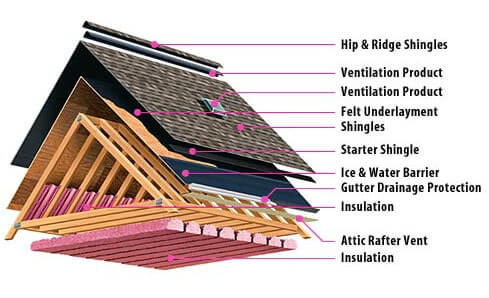 Volpe Enterprises, Inc. can provide preventative care for your home with necessary roof coatings, roof inspections, shingle repair, and even periodic gutter cleaning. And with our wide range of roofing products, you're sure to find a style you love. 
We provide general assessments, free estimates, and have the qualifications to keep your roof in top condition. We can even help you establish a roof maintenance plan that'll keep it in tip top shape. And, when you find it's time to replace that roof, Volpe Enterprises, Inc. has qualified craftsmen to install it for you. With strong industry knowledge, they are seasoned pros and can be counted on to deliver an excellent finished product.
 Volpe Enterprises, Inc. only uses the best building materials from well-known manufacturers like CertainTeed. In doing this, we strive to offer our clients the best products on the market. And with our 50+ years of roofing experience, we know which products will outperform the competition and will be best suitable for your needs. Stop by our showroom to see samples of metal, slate, and architectural fiberglass shingles, learn about our warranties, and experience personalized service with customer satisfaction in mind.
Volpe Enterprises, Inc offers comprehensive roof repair services. We are some of the most experienced roofers in the country! Find out more at Roof Repair.