Deck Installation and Renovation
Transform Your Outdoor Space Into An Oasis
Whether you want to entertain guests with a barbeque or unwind in peace, your new deck is the perfect place. Both the deck and spaces surrounding it will be a place for family and friends to relax, play games, grill or simply enjoy the great outdoors. 
This outdoor deck space will transform your backyard into the ultimate hangout spot. Imagine an outdoor kitchen with a beautiful seating area, dining table, and a lounge area with string lights and a pergola. A deck builder from Volpe will make it happen by creating a deck area with a seamless transition. With our designs, your deck can be everything you can imagine it to be. 
Volpe Enterprises' Deck Remodel Specialists Can Design the Deck of Your Dreams.
No matter what your vision is, Volpe Enterprises can make your outdoor deck a reality. Our certified deck-building and remodeling experts will provide you with professional advice and ideas for your deck design. With our long-recognized standing as the area's top deck specialists, you can count on Volpe Enterprises for a reliable, fast, and efficient installation process. Our technicians will have you enjoying your new outdoor space as soon as possible!
Custom Decking and Professional Installation
Volpe Enterprises provides custom patio and decking installation for: composite decking, wood decking, pergolas, benches, stairs, railings, posts, fire pit, hot tubs, and a wide range of other specialty products for your outdoor space. Need an outdoor kitchen? We've got you covered. A great outdoor deck remodel or brand new outdoor deck is in your future.
No Deck Remodel Project is too Small or too Complex
With 50+ years of experience, the pros at Volpe Enterprises have completed all kinds of deck-related projects. Our knowledgeable craftsmen are qualified for any task.  Need a deck renovation for an existing deck? We are able to help you replace a broken rail or install a multi-level deck. Want a new deck from the ground up? Whether a simple platform deck or a wrap-around, we can tackle any of your outdoor home improvement projects.
Volpe Enterprises will also provide the necessary permits and work closely with certified architects to ensure that your deck project, whether large or small, is a success.
Composite Decking
Decking materials are an important decision when planning your deck design ideas. Choosing deck boards can depend on budget. Volpe Enterprises strongly recommends choosing Timbertech's composite decking material for your outdoor deck. These deck boards are made from a lightweight material that is designed to mimic the look of natural wood. Because they are made from a combination of various materials, such as plastic and wood fibers, they are typically waterproof and do not need to be pressure treated. It's a low-maintenance option that you will appreciate down the road.
A composite deck has several advantages that set it apart from its more traditional counterparts. Composite material decks, in addition to being lower maintenance than real wood decks, are weatherproof and durable. The color does not fade in direct sunlight. Timbertech's distinct blend of composite materials is also resistant to rot, decay, and insects, ensuring that your investment is safeguarded for years to come.
Natural Wood Decking
While not as beneficial as composite decking, a wood deck is still an excellent way to enhance your outdoor living space. Provided that you do yearly maintenance and use pressure treated wood, a natural wood deck can be a lasting and permanent addition to your home.
The most popular and durable material for wood decks is cedar. While other hardwoods can be used, cedar has a natural resistance to rot and insects. It also has an attractive aroma that helps keep pesky insects away.
In addition, a wood deck costs less than a composite deck. This gives you more leeway in designing your dream deck and complementing it with custom details like hidden deck fasteners and deck railings.
Choose a Deck Built by Volpe
Whether you choose a Timbertech composite deck or a traditional wood deck, know that Volpe Enterprises, Inc. is the premier deck remodel and building company in our area. 
We work tirelessly to maintain our status as a community pillar and ensure that every project meets our sky-high standards. We will use the finest deck boards and materials while employing the most experienced craftsmen. Volpe Enterprises is the top deck installation specialist in your area!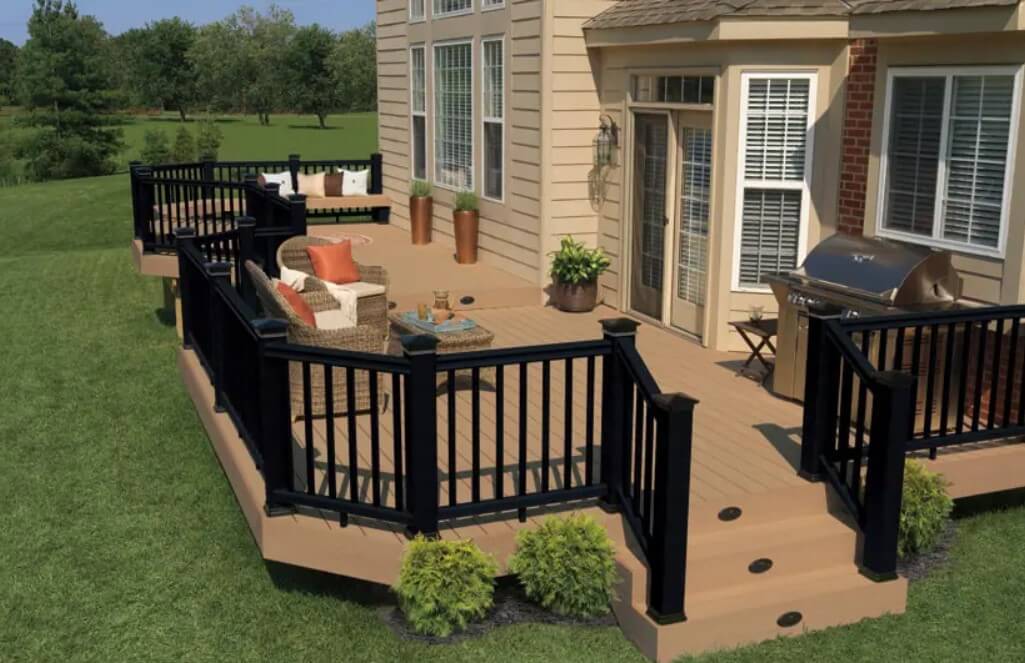 How Much Does it Cost to Build a Deck?
Many factors go into the cost of a deck. You must budget for materials, labor, adhering to building codes, and obtaining a building permit. This total cost is determined by several factors, including:
The type of deck you want to build.

The decking materials you use.

The square footage of the deck.

The deck's elevation off the ground.

The design's complexity (e.g., stairs or multiple levels).
There are also other, more circumstantial, costs that you need to consider. For example, if you have an existing deck, you'll need to demolish it before you can build a new one. While the existing deck frame may be able to be salvaged, it depends on its condition and the materials that you've chosen for your new deck.
Another cost to consider is the strength of the deck's foundation. If your dream deck must support additional weight, such as a hot tub, it will require a more solid foundation. This is usually done by adding support beams with solid concrete footings. However, these extra structures create an additional cost per square foot installed.

Need Help?

If you're still in the planning stages and need assistance, Volpe Enterprises is here to help. Building dream decks since 1970, we are the top deck installation contractors in the Greater Philadelphia region. To get a FREE quote for your dream deck, give us a Call or Click today! One of our knowledgeable representatives will be happy to discuss the details of your project and give you a tour of our showroom in North Wales.
What is the Best Decking Material?
The best decking material is one that is durable, long-lasting, and visually appealing. It should have a color scheme that complements your home and a design that makes your property stand out.
There are numerous materials to choose from if you want to build a new deck. However, you must consider your budget, desired amenities, and the best style for your home. Depending on your situation, each decking material will offer distinct advantages.

Composite Decking
Composite decking is the most durable decking material. It is easily maintained, resists the elements, and won't rot over time. Made to have the timeless look of natural wood, you can't go wrong choosing a composite deck.
Although composite material is more expensive than wood, it is a worthwhile investment. This is because a new composite deck will increase the value and curb appeal of your home. Also, because it's low maintenance, it will save you enough money on repairs to pay for itself after a few years. Because of this Volpe Enterprises strongly recommends building with composite decking materials.

Wood Decking

Wood decks are a popular choice for people who want to make their outdoor areas more inviting and comfortable. They come in a number of different designs, sizes and colors that make them perfect for any home or outdoor space.
Wood decks are less expensive than decks made of advanced materials like composite. Despite being less durable, a wood deck can be a long-lasting and permanent addition to your home if properly maintained.
How to Clean a Composite Deck
Composite decks are made of wood, fiberglass, and plastic. They are a great investment for homeowners who want to have a deck that is sturdy and long lasting. There are many ways to clean composite decks, but most people use a pressure washer with a high-pressure nozzle to remove grime and residue from the surface.

Using a Pressure Washer

It is important not to use a pressure washer with a pressure higher than 3000 psi. If the force is too great, the coating on your deck may be damaged. Before you pressure wash, you should spray soap on the areas you intend to clean. This will aid in the breakdown of any residue and make it easier to wash away. When you're done cleaning, it's important to rinse your deck thoroughly. If excess soap or dirty water from cleaning is left to dry, it will form a glossy film on your deck's surface.

Scrubbing With Soap

If you don't have access to a pressure washer, you can remove dirt and grime using warm soapy water and a soft bristle brush. When cleaning, scrub gently to avoid damaging or scratching the deck's outer surface. When you're done, thoroughly rinse you deck with a hose to remove excess soapy water.
When to Stain a New Deck
A new deck should be stained after it has been treated with a sealant. The sealant will prevent the stains from bleeding into the wood and causing problems in the future. In general, you should stain your deck at least 30 days after it has been built. This will allow the wood to dry and the stain to adhere.
However, this is only a suggestion. The timing to stain your deck is determined by a few factors, including the climate in which you live, the wood you're using, and how it's been treated. For example, wood in a warm, dry, climate will dry out faster than wood in a damp, humid, climate.
When you think your deck has finished drying, you can test it to make sure. This is done by pouring water on the boards. If it beads up, it's not ready. If the water seeps in, your deck is ready to be stained.|

Pressure Treated Wood
Because of how it's designed, pressure treated wood can take months to completely dry out. If you don't wait for the wood to dry, the stain might not penetrate all the way through. This can result in a blotchy paint job that has diminished protective properties.

Kiln Dried Wood

Most of the wood that you can buy at a hardware store is kiln dried. Because it is not as compact as pressure treated wood, it takes less time to dry. You can expect this process to take at least 30 days and up to two months.
Transform your outdoor space into an oasis with Volpe Enterprises! If you are interested? Find out more at deck remodel.