TimberTech Composite Decks
Volpe Enterprises, Inc. is proud to offer a wide selection of TimberTech composite deck products. Available in beautiful colors and finishes, TimberTech decks combine the look and feel of real wood with the long-lasting durability of composite material. It is a low maintenance, safe, and sturdy product that will last for years to come!
Maintenance Free

TimberTech Decks maintain their color and beauty for years without the work of painting, staining, or sealing. They also resist mildew, warping and insects, so there is no need to replace rotting, uneven, or termite-damaged boards. These helpful features will save you time, money, and stress over the life of your deck.  However, Volpe Enterprises recommends that you power wash your deck at least once a year to remove leaves and other debris that might have accumulated during the winter season.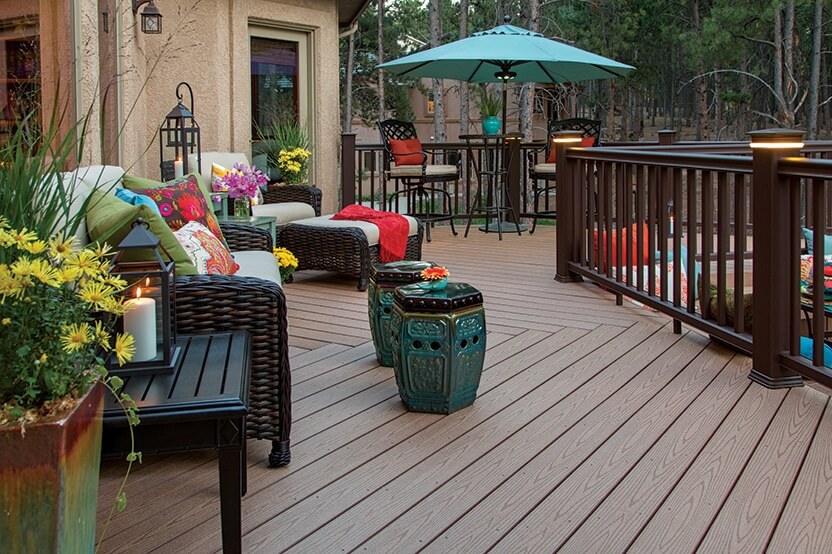 Long Standing TimberTech Deck Warranty

TimberTech decking is backed by their 25-year limited residential warranty. TimberTech's warranty offers 25-years of coverage, which isn't prorated and can be transferred to a second homeowner if you decide to relocate.
Industry-Leading Products

Volpe Enterprises, Inc. is fully stocked with TimberTech's complete line of outdoor building materials. Durable and resistant to weather and damage, they are widely recognized as one of the top products in the industry. As deck installation specialists, Volpe can install TimberTech's traditional wood-plastic composite planks and integrated railing and light systems for your new deck! It'll be sure to impress guests and give your home a unique style.
Increase the Value of Your Home

When Volpe Enterprises, Inc. installs your TimberTech deck it adds value to both your life and your home. By choosing TimberTech's standout quality, Remodeling Magazine estimates that you'll be able to recoup at least 71% of its cost if you decide to sell your home. To maximize this return, we suggest giving your deck a unique design that fits your home and extends your living space.
Custom Designed and Professionally Installed TimberTech Decks

Custom TimberTech decks, professionally installed by Volpe Enterprises, can give your home exclusive and breathtaking appeal. To get a free quote for your project, give us a call! One of our representatives will be happy to give you advice on how to bring your project to life.