Slate roofs are beautiful. Homeowners love them for their attractive appearance and the character they add. Yet slate can be expensive and heavy. Imagine the sheer beauty of slate without the extreme weight and expense.
Enter synthetic slate tiles.
Contemporary synthetics provide a roofing tile that looks just like natural stone, however, costs 45 to 65 percent less. This impressive roofing option is also much lighter, allowing it to be installed on a wider range of home constructions.
WHAT ARE THE BENEFITS OF SYNTHETIC SLATE ROOFS
Synthetic slate roofs are a modern improvement on a construction classic. Synthetic slate is designed to mirror the beauty and uniqueness of authentic slate without the expense or installation headaches, and synthetic slate shingles last longer.
Synthetic slates provide a long-lasting natural look without the dangers of real slate roofs. They are lighter and able to be installed with precision and efficiently. Unlike real slate, synthetic slates will not become brittle over time or crack. They are available in different colors, sizes, and styles.
Synthetic slate is considered a "green" building alternative because all types of synthetic slate can be recycled at the end of a roof's usable life.
HOW MUCH DOES A SYNTHETIC SLATE ROOF COST?
Faux slate generally falls in the middle of the price range when comparing all roofing materials.
A variety of factors will affect your synthetic slate roofing cost, but the important thing to know is that it will cost less than an authentic slate roof. Not only are the tiles less expensive, but the installation is easier and more affordable as well.
Request A Free, No Obligation Quote: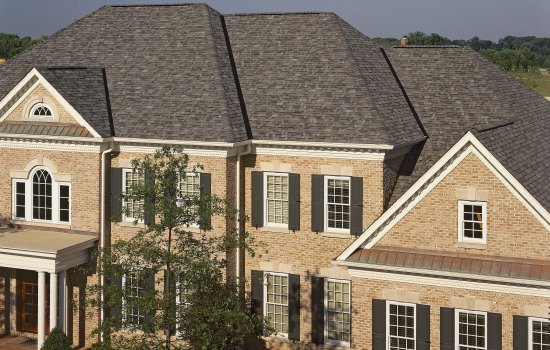 WHICH LASTS LONGER: SYNTHETIC SLATE OR AUTHENTIC SLATE?
Synthetic roofs are designed to last longer for several reasons. The materials used for synthetic tiles are combined with ultraviolet inhibitors to reduce damage from the sun.
HOW DOES SYNTHETIC ROOFING STAND UP TO THE ELEMENTS?
Synthetic roof tiles can vary in their impact resistance, which helps determine how well they'll stand up to weather elements, like hail.
While it can't stop fire hazards inside your home, synthetic slate roofing often offers high fire resistance if a spark or ember lands on your roof.
WHAT IS SYNTHETIC SLATE ROOFING MADE OF?
Synthetic slate roofing has a variety of materials that it comes in, including polymers, plastics, clay, asphalt, rubber, fiber cement, and steel.
The best synthetic slate roofing material is up to the homeowner and how the new roof will match the style of their house. Each material has its own characteristics, strengths, weaknesses, and costs.
YOUR ROOFING EXPERTS
As you might have guessed from the materials and installation, the overall costs of synthetic slate are less than authentic.
Each manufactured slate roofing has its own distinct pros and cons, which our roofing technicians can explain and discuss with you.
If you're ready to get started with your new roof, or would like more information on synthetic roofing products, contact Volpe Enterprises, Inc.. We will be able to provide a free estimate and discuss different options that are available.
Is your roof damaged? It would be best if you acted quickly. Otherwise, your home belongings could suffer severe structural damage. Learn more about a roof replacement.