Insulation That Protects Your Home
Volpe Enterprises Inc. is proud to offer AttiCat™ Expanding Blown-In PINK FIBERGLAS™ Insulation.
Loose fill insulation, also called "blown-in" insulation, consists of small particles of fiber, foam, or other materials. It is "blown" into your wall and provides a tight and compact fill. This gives it great temperature resistance as it does a better job sealing your home than blanket or batt insulation.  Since loose fill insulation is also non-combustible and non-corrosive by nature, it offers significant advantages over other loose fill insulation products.
Blow-In Insulation Facts:
It will not settle or lose its energy-saving abilities over time.

It does not require the addition of fire-retardant chemicals that can corrode pipes or wires.

It will not decay, support fungus or mold growth, or provide sustenance for insects or vermin.
Mess-Free Service:
AttiCat™ Expanding Blown-In PINK FIBERGLAS™ Insulation releases and expands completely inside the machine. As the fiberglass bounces its way up to your attic, it is further conditioned through the length of the hose. This creates millions of tiny air pockets that give the material its insulating power.

Easy clean-up because the machine does the work. This makes fiberglass the most efficient and cost-effective insulation material for attic insulation.
Safe and Reliable Insulation:
AttiCat™ Expanding Blown-In PINK FIBERGLAS™ Insulation is non-combustible and meets all building codes for non-combustibility.

Non-corrosive. Doesn't require fire-retardant chemicals which can leach out and corrode pipes, electrical equipment, or structural metal attachments.

Doesn't support mold growth. Inorganic glass fibers do not support fungus or mold growth and will not rot or decay. (Fiberglass is resistant to mold growth, as tested per ASTM C 1338. However, mold growth can still occur on building materials, including insulation, when it becomes contaminated with organic material and when water is present. To avoid mold growth on fiberglass insulation, remove any water that has accumulated and correct or repair the source of that water. Insulation that has become wet should be inspected for evidence of residual moisture and contamination. Contaminated insulation should be promptly removed and replaced.)

Won't absorb moisture. Moisture reduces insulation effectiveness but the glass fibers in blown-in insulation resist moisture build-up.

AttiCat™ Expanding Blown-In PINK FIBERGLAS™ Insulation works on the principle of trapped air pockets. These tiny air pockets, trapped in the insulation, resist the passage of heat flow—heat loss in winter and heat gain in summer. Generally, the thicker the insulation, the more air pockets and the greater the insulating power.

Compared to cellulose insulation, fiberglass insulation is lighter, lasts longer, and is more resistant to mold and mildew growth.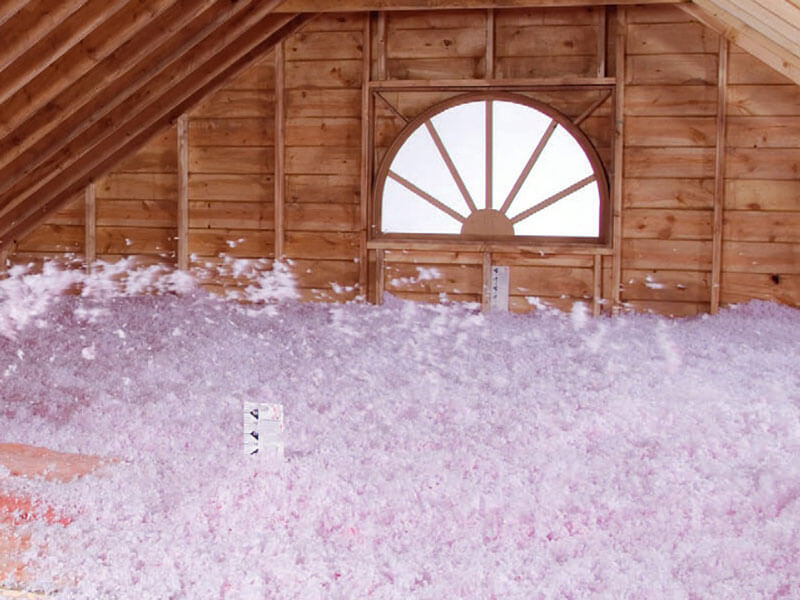 How Much Does Attic Insulation Cost?
The cost of attic insulation will vary depending on the material used. This price is also determined by the attic's size, how easy it is to access, and the type and quantity of insulation required.

Attic Insulation Materials

The most common types of insulation are fiberglass, cellulose, and foam. Each has unique properties that make them different from the others. However, the insulation contractors at Volpe Enterprises recommend choosing fiberglass. As the most durable and cost-effective insulation solution, fiberglass provides comprehensive protection from fire and the elements.
How Much Insulation Do I Need in My Attic?
According to Energy Star, the recommended level of insulation for most attics is R-38, or approximately 10 to 14 inches, depending on the type of insulation. However, this number is contingent on a variety of factors and most homes don't meet this threshold. In fact, almost 90% of homes in the United States are under-insulated. This cause of this is often due to age, improper installation, or inefficient insulation materials.
For example, cellulose is one of the least efficient materials with a rating between R-3.2 and R-3.9 per inch. This means that you will probably need more insulation than if you used Fiberglass, which has a rating between R-3.2 and R-4.3. In addition, the climate in your area dramatically influences the amount of insulation you'll need.

Need help? We have your back

If you're unsure of which insulation is in your attic, its r value, or what any of this even means, we can help. The certified insulation contractors at Volpe Enterprises have over 50 years of experience insulating homes in the Greater Philadelphia region.
So, if you have any questions, feel free to give us a Call or Click. One of our knowledgeable experts would be happy to speak to you and schedule a FREE inspection for your attic today!
What Is the Best Attic Insulation?
The best Attic Insulation material is determined by your budget, home, and location. Some materials, however, are more efficient than others. The efficiency of the material, as determined by a rating known as an R-Value, determines how many layers of it you will require.

Insulation for Cold Climates

If you live in a cold weather climate, the best attic insulation is going to be one that's hyper efficient and has a higher r value. For this, the best option is rigid foam or panel installation. Rigid foam is one of the most energy efficient products on the market today, and it is also one of the easiest to install. However, it comes with a caveat: it is only an effective solution if it can be cut to fit exactly where you need insulation.
Because of this, Volpe Enterprises recommends the use of blown-in fiberglass. It is a versatile material that can be compacted to fit into any nook between your walls and in your attic. Blown in fiberglass can also be used as ceiling insulation, is non-combustible, and has a relatively high r value.
Unlike other loose insulation, like blown in cellulose insulation, loose fill fiberglass is also resistant to water absorption. This is especially important in colder climates where snow can linger, build up, and seep into your attic and walls. If you have insulation that is not weatherproof, it may render useless when wet. On top of this, your property will be susceptible to costly damage and expensive repairs.

Insulation for Warm Climates

If you live in a hot climate, you know that nothing beats the convenience of a cool, air-conditioned home. However, keeping your home cool can dramatically increase the cost of your energy bill.
You can avoid this, though. To keep your house cool while saving money on utilities, you need to install efficient insulation. This should prevent air leaks, increase energy efficiency, and maintain the temperature inside of your home.
With this in mind, Volpe Enterprises recommends using blown-in fiberglass insulation. While it is also popular in cold climates, fiberglass is an excellent choice for those who live in warm areas.
One major reason for this is that it is fire retardant, lowering the risk of damage to your home from wildfires or other blazes. Fiberglass also doesn't settle once it is installed and maintains its original shape and size. As a result, it is an extremely durable insulation material that will retain its r value for many years.

Looking For An Insulation Contractor?

If you're looking for an insulation contractor in the Greater Philadelphia area, Volpe Enterprises has you covered! Our expert insulation technicians have the knowledge and experience to complete any project. Their work is also backed by our workmanship warranty, so you can be confident that you're getting a product that is safe, effective, and properly installed.
For a FREE quote for all your professional installation needs, give Volpe a call. One of our experts will be happy to connect and answer any questions you may have.