Window replacement can be an intimidating project. Whether you're planning to install a handful of windows or a whole houseful, it's easy to get overwhelmed. But don't worry Volpe Enterprises is here to help!
You might be considering new windows because you want to increase energy efficiency or enhance your home's curb appeal. However, the most common reasons for replacing windows are because they are worn out, broken, stuck shut, or won't stay open. Whatever your project entails, Volpe Enterprises can guide you through every step of the way. As the premier window installers in your area, we can provide a replacement window for any window frame or style. We can also help you frame windows that you already have.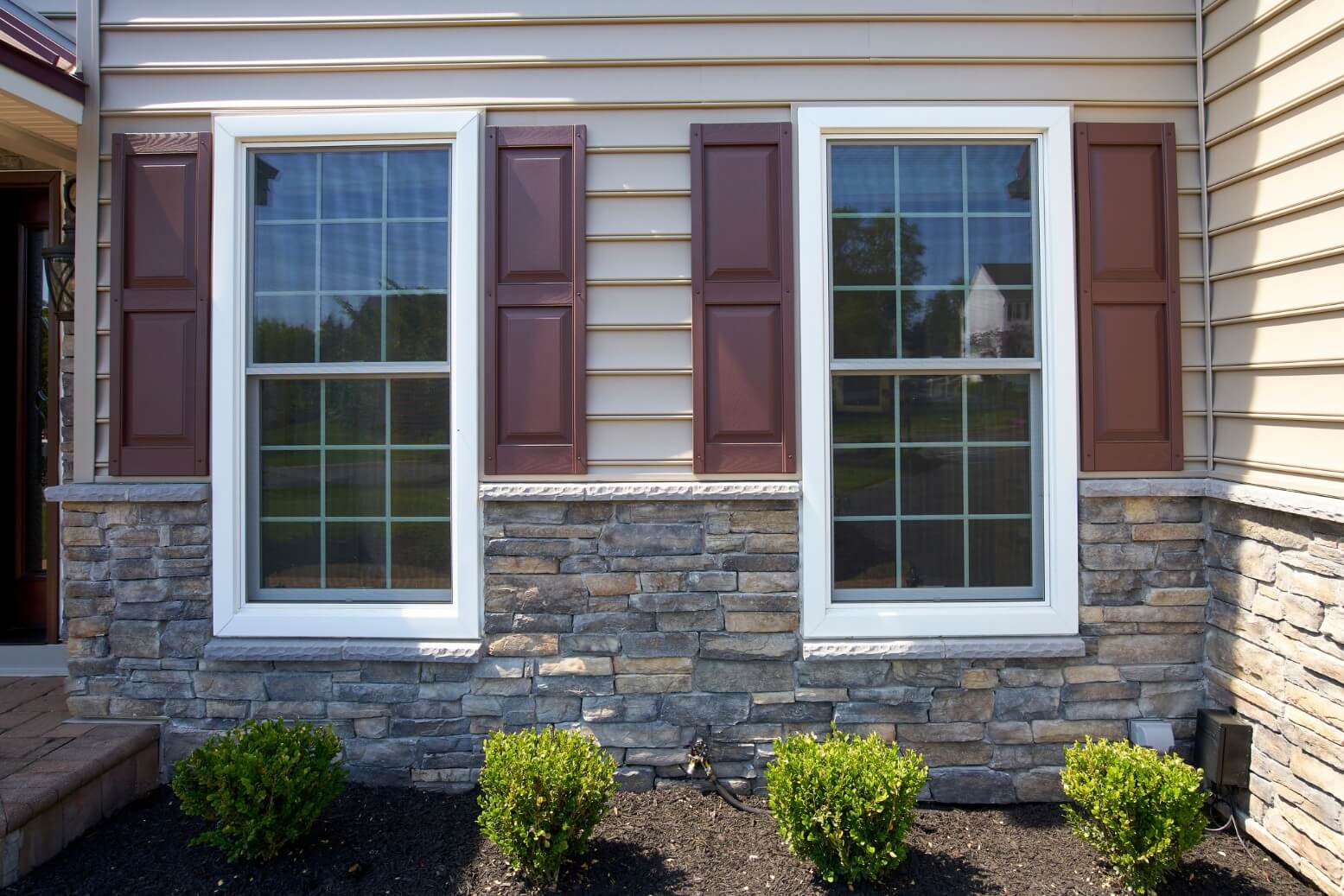 Why Replace Your Windows?
Energy efficiency
Low maintenance and easy to open and clean
Add value to your home
Noise reduction
Security, double strength glass, and a stable window frame
Lifetime warranty
Looks great!
Volpe Enterprises will provide energy efficient windows for your window replacement project. We offer vinyl windows, wood windows, casement windows, bay windows, and bow windows. Aluminum windows and fiberglass windows are also other popular options for window replacement and window frame materials. All of our products are sourced from top rated manufacturers like Andersen, Okna, Provia, Marvin, and Pella. Schedule a tour in our showroom to see all of our options. While it can be tough to choose between our many window styles, we will assist you in making the best choice for your home and budget.
As "green" advocates, Volpe Enterprises believes its essential to conserve energy. This is the reason we recommend Starmark Evo composite windows. These windows are energy efficient and have a remarkably low air infiltration rating. They are also known for their cost effectiveness, low environmental impact, and reliability to withstand a wide range of weather conditions.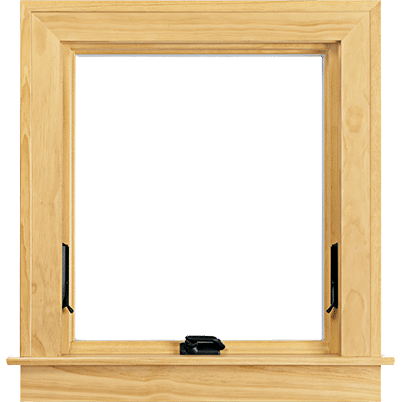 Wood windows give your home a unique style and add a beautiful finish to any room. On top of providing a timeless and classic look, they are also excellent insulators and, with proper care, will last you a lifetime. This is because wood windows are both heat and rust-resistant.
Volpe Enterprises, Inc. offers ProVia's energy-efficient, custom windows in a number of popular styles. ProVia is one of the window industry's premier manufacturers. Rising to the top in a market that demands outstanding quality, they have a proven track record and a knack for sourcing quality materials. Their custom vinyl windows are some of the best on the market and can only be defined as "professional-class."
Types of Replacement Windows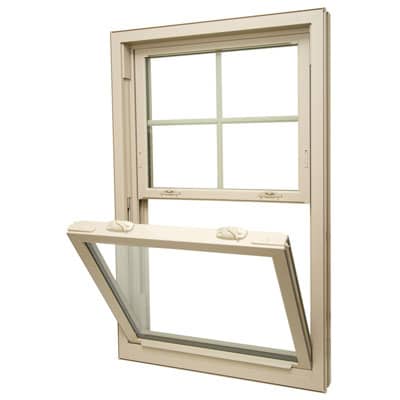 Single/Double Hung Windows
Single-hung and double-hung windows are very similar to each other; with just one major exception. Both sashes on double-hung windows are operable, meaning they both move up and down. On single-hung windows, however, the top sash is fixed in place while only the bottom sash remains operable. The benefit of having a double-hung window, rather than a single-hung, is that it is easier to clean and maintain.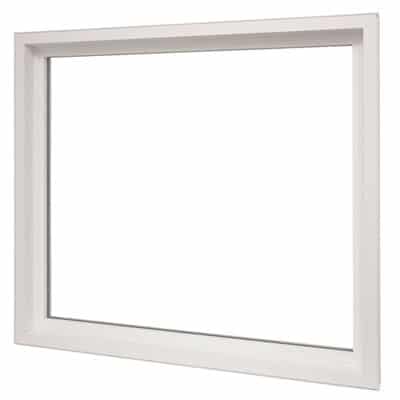 Picture Windows
Picture windows are fixed windows that do not open. They are usually installed in places that are difficult to reach, where ventilation is not a concern. Picture windows are often used to let in light or reduce drafts in areas of a room that may be prone to it. They can be used alone, or combined with other windows, to create a portrait-like space on the wall – hence the word "picture" in their name.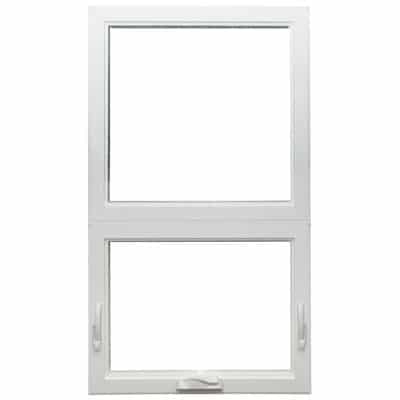 Awning/Hopper Windows
Awning windows open from the bottom and swing upward via a crank. Hopper windows open from the top and swing inward. They are primarily used in basement applications.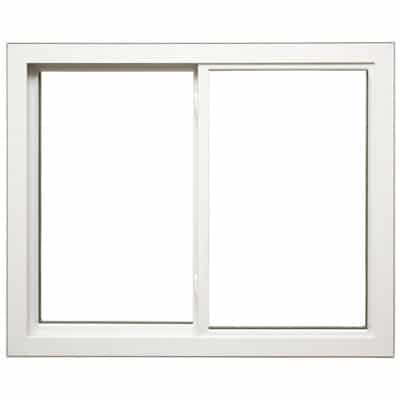 Sliding Windows
A sliding window is a window that opens by sliding the panes on a track in the frame. It's a good choice when the size of the window is much wider than it is tall. These windows are available in a single slider with one moveable sash, a 2-lite slider where both sashes move, and a 3-lite slider for large openings. 3-lite slider windows have a fixed picture window in the center with operable window sliders on each end.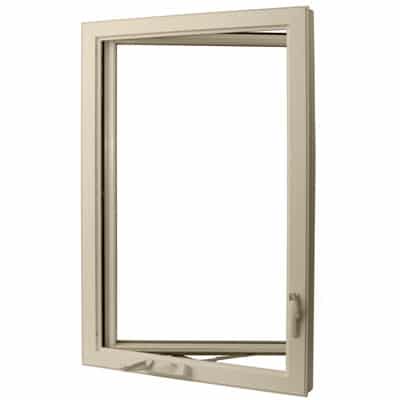 Casement Windows
Casement windows are hinged on one side and open with a crank handle on the other. This handle is used to swing the window open, away from your home and towards the outside. Casement windows also provide maximum ventilation.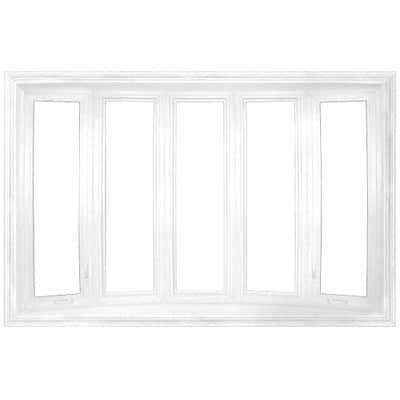 Single/Double Hung Windows
Single-hung and double-hung windows are very similar to each other; with just one major exception. Both sashes on double-hung windows are operable, meaning they both move up and down. On single-hung windows, however, the top sash is fixed in place while only the bottom sash remains operable. The benefit of having a double-hung window, rather than a single-hung, is that it is easier to clean and maintain.
Skylights
VELUX skylights are an energy-efficient way to bring sunlight into a room and make dark areas come to life. With this in mind, they have a few specific advantages over other kinds of windows. VELUX skylights bring natural light into your home while still allowing you to maintain your privacy. VELUX skylights are a beautiful addition that enhances both the character and beauty of any room. On top of this, a skylight will also increase the resale value of your home because it is more appealing than a standard window.
How To Clean Mold From Window Sills?
Mold can grow in a variety of places, including window sills. Because they are not as easy to reach as other surfaces, window sills are one of the most difficult areas to clean.
To remove mold from window sills, you'll need the following items:
A bucket or sink full of hot water and soap
A scrub brush
A sponge or cloth
Safety goggles
Follow These Steps
Pour hot water and soap into the bucket. Put on your safety goggles to prevent any moldy debris from getting into your eye.
Using a brush or cloth dipped in the soapy water, scrub the sills and mold until they are clean.
Wipe down all surfaces with a dry sponge or cloth, removing excess water from the surface of the windowsill and any mold you didn't get the first time around.
Rinse the windowsills one more time with a bucket of clean, cold water to remove soapy residue.
Finally, wipe down all surfaces with a clean cloth or paper towel, then lay another cloth or paper towel over the outside surfaces and press firmly to gather any remaining moisture.
Need Help?

If you need help servicing your windows or find that you need replacement windows, reach out to the window pros at Volpe Enterprises. We can complete full-service window replacement projects or smaller window repairs. If you want a free quote for your window project or any of your other home improvement projects, give us a call. One of our certified experts will be happy to answer any questions you may have.
How Much Does it Cost To Replace Windows?
Replacement windows are an excellent way to boost your home's value. However, they can be quite costly, so you should know how much they cost before you start looking for them.
If you want to know how much replacing your windows will cost, you should contact a reputable window installation company and request an estimate. They'll be able to tell you what replacement windows cost in your area.
The cost of window installation varies depending on the type of window you want, the size and location of your home, and the labor costs for installation. For the windows themselves, consider these factors:
The size and number of windows that need replacement
The type (single or double pane)
The style (casement or awning)
Consider the Cost Saving Benefits

New home windows can save you a lot of money. On top of their extensive warranties, windows that are filled with argon gas can help lower your energy bills. This is because the argon gas that's trapped between the inner and outer window panes is an incredibly efficient insulator. Capable of blocking the transfer of heat and cold, it will help you maintain the temperature inside of your home.
When you're buying windows, make sure that they are Energy Star approved. You may be eligible for certain tax-saving government incentives depending on the type of window you install and whether it is Energy Star certified.
Get a Free Quote For Your Window Project
While window projects may seem costly, a free quote will give you good insight into what you can expect from your project. For all types of window projects, Volpe Enterprises provides free quotes and estimates so you can feel confident in your decision before you commit.
Experts in window replacement since 1970, Volpe Enterprises is the go to contractor for all types of popular window brands. We carry Okna, Provia, and Pella windows in a variety of styles. To learn more, call to get in touch with one of our window specialists today!
Can You Paint Vinyl Windows?
Yes, you can paint vinyl windows. Before painting the window, scrape off any old paint with a putty knife and sand the surface. If the window is brand new, there is no need to sand it. Before painting, use a heavy-duty cleaner to remove all dirt and grime from the window surface.
Because you can't paint the vinyl directly, you need to apply a primer before painting. For best results, paint should be applied in thin layers with a brush or roller and allowed to dry between coats.
Risks of Painting Vinyl Windows
Vinyl is a finicky material and there are a few risks that come with giving it a new coat of paint.
It Can Void Your Warranty: Before you start painting, check your window's manufacturer's warranty. Any painting or priming could potentially void it, causing major headaches if you need to replace it in the future.
Primers Can Damage Your Window:
Primers contain several chemicals that soften vinyl and compromise its structural integrity. This can lead to a damaged window frame, which is something you'll have to get fixed in the future.
The Color of The Paint Matters:
Darker colors retain more heat than lighter colors, which can cause the vinyl frames to warp and the glass to break. Apart from the obvious issues this can cause, it will almost certainly void your warranty, leaving you responsible for any repair or replacement costs.
Ask An Expert
With all of this in mind, if you don't have experience working with windows, it's probably best to ask an expert for help. They'll be able to help you decide if painting your window is possible, smart, and safe. Be sure to check online reviews and ask your neighbors if they know of anyone who they can recommend.
While getting the cheapest and lowest-value option may seem worth it in the short term, do your homework, and choose a contractor who appears trustworthy and has a track record of happy customers.