Wood Window Installation
Volpe Enterprises, Inc. is the top Wood Window Installation and Replacement company in your area. We offer a wide selection of wood windows from top brands like Pella, Marvin, and Andersen.  Choose from double hung, awning, casement, and glider as well as bay and bow wood windows.
Wood windows have a natural and timeless beauty that can enhance the overall look of your home. Wood windows give your home a unique style and add a beautiful finish to any room. They are also excellent insulators and, with proper care, will last you a lifetime. This is because wood windows are both heat and rust-resistant.
WOOD REPLACEMENT WINDOWS
Wood windows offer a wide range of design options and can easily be customized to fit your specific needs and design preferences. They can be stained or painted to match your home's style.
Scroll down to browse our products and give us a call to see our design showroom or schedule a free, in-home estimate for your wood window installation!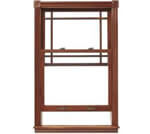 Pella Architect Series Double Hung
The Pella Architect Series double-hung wood window has a low-maintenance EnduraClad exterior that is fade and chalk resistant
Both sashes tilt to make it easy to clean and the cam-action sash locks to increase leverage and form a tight seal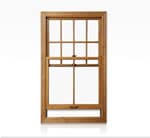 Pella Architect Series "Precision Fit" Double Hung
Pella Architect Series "precision fit" double-hung wood windows are custom built for a perfect fit
Made from the finest wood and lathered with Pella's patented coating, these windows are resistant to fading and chalking
Both sashes tilt to make them easy to clean. They are a perfect low-maintenance option that can add distinctive and pronounced detail to any room!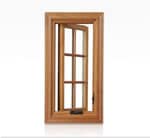 Pella Architect Series Awning & Casement
Pella's Architect Series awning and casement windows have a patented Unison Lock System
This system secures both the upper and lower locks with a single lever
This ensures that the sash will be pulled tight against the weather-stripping, creating a seal that's rated as one of the best in the industry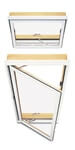 Marvin Integrity Awning & Casement
Features a folding handle to maintain an uninterrupted line of sight. Located on the side of the window, this feature allows for a large, undivided, glass pane that provides you with an unfiltered look of the outdoors
Integrity Awning & Casement windows are reliable and weather resistant. Made from the finest wood, which prevents sagging and allows for easy ventilation and cleaning, these windows are both durable and beautiful
They come pre-treated and are ready for staining or painting. If you'd like a bit more pizazz, we provide a pre-finished white interior as an upgrade option

Marvin Ultimate Insert Double Hung Window
Marvin's Ultimate Insert Double Hung Window is highly versatile and cost effective
It comes in two styles: a wood version that gives your home an old-timey look and an aluminum version that is durable, long lasting, and easy to maintain
Blending old-world craftsmanship with modern technology, the Ultimate Insert Double Hung Window is a fantastic choice for any home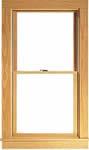 Andersen 400 Series Tilt-Wash Double-Hung Vinyl Clad Wood Windows
Andersen Double-Hung windows incorporate outstanding premium-performance with a traditional and beautiful design
They are easy to maintain and have a slim frame and sash profile to maximize your field of view
The exterior frame is covered with a rigid vinyl PVC cladding, which minimizes upkeep and gives the window a charming and elegant appearance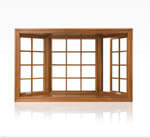 Pella Architect Series Bays and Bow
Bays and bows are large combinations of windows that uniquely capture a beautiful outside view
Pella's bay and bow windows, in particular, are specially built to provide this view in a limited amount of space
Available in many different combinations of colors, finish, and wood interiors and can accent the style of any room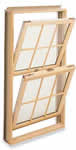 Marvin Integrity Double Hung
The Integrity Double Hung has a one-piece Ultrex jamb which makes the window and sash remarkably easy to operate
This window can be used for new construction and remodeling
This window is only available in standard sizes
The Integrity Double Hung offers, by default, a bare interior but you can upgrade to a pre-finished Sherwin Williams white interior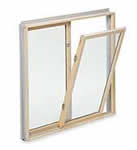 Marvin Integrity Glider
The Integrity Glider fits in a spot where there is no room for a swinging sash
Closely matches casement proportions and sightlines
Easy to install and "glides" right into place The sashes can also be removed and reinstalled for easy cleaning
As a durable and reliable option, the Integrity Glider is a sustainable window that will last for years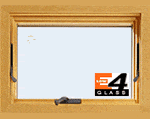 Andersen 400 Series Awning & Casement Vinyl Clad Wood Windows
Andersen awning & casement windows feature a stunning pine wood interior
The exterior is made from preformed rigid vinyl PVC for strength, beauty and ease of use
They are available with high-performance Low-"E" glass or high-performance Sun Low-"E" glass, which provides optimum temperature control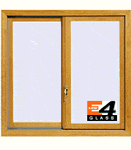 Andersen 400 Series Gliding Vinyl Clad Wood Windows
Andersen's gliding windows feature a contemporary design and a natural wood interior that can be painted or stained 
Easy to operate and uses only 8 lbs of force while gliding on its Teflon coated Derlin rails
The sashes are easily removable for easy cleaning and maintenance
Are you considering replacing your windows? It can be an intimidating project. Don't worry, though! Volpe Enterprises is here to help. Learn about window replacement.