Flat Roofing
Rubber roofing is a very popular and common type of roof  for non-sloped to low sloped commercial and residential roofs. To be considered a flat roof, a roof must have a 2/12 pitch or lower (2′ of rise over 12′ length). The single most important feature of a flat roof system is the ability to hold standing water.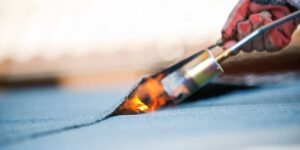 Flat roofs are more than just a covering for your home – a flat roof can be used as an outdoor living space, becoming a deck or patio. Volpe Enterprises, Inc. specializes in Residential, Commercial and Industrial Rubber Roofing, EPDM, Flat Roofing in Southeastern Pennsylvania.
Rubber Roofing Advantages:
Long lasting
Low maintenance and easy to repair
Price
The rubber is a dark color, which is ideal for attracting heat and can add certain energy advantages. There are three different types of applications for rubber roofs. They can be fully adhered, mechanically attached or loose laid.
There are many different products that can be used on flat and low slope roofs. Depending on your building design, Volpe Enterprises, Inc. has the knowledge and expertise to install the following types of materials:
Modified Bitumen (torchdown)
TPO
EPDM
Flat Seam Copper
Standing Seam Metal
Call us at 610-539-6730 for a free estimate for Rubber Roofing/EPDM Roofing or any other residential, commercial or industrial roofing needs in Southeastern Pennsylvania.
We are fully licensed, insured and offer free estimates. Our employees take pride in their craftsmanship.  Volpe Enterprises, Inc. has been a family owned and operated business since 1970.