Flat roofs are usually seen on commercial buildings. But, did you know that you can also have a flat roof installed on your home, garage, or patio?  Learn more about flat roofs and how they might work with your next residential or commercial project.
WHAT IS A FLAT ROOF?
Flat roofs are an aesthetically interesting and energy-efficient alternative to traditional sloped roofs. Truth be told, flat roofs are not entirely flat. Rather, they feature a slight slope, known as a pitch, to prevent the accumulation of rainwater. To be considered a flat roof, a roof must have a 2/12 pitch or lower (2′ of rise over 12′ length). This is because the single most important feature of a flat roof system is its ability to hold standing water.
Flat roofs are increasingly popular for their clean look and easy maintenance. Their level surface and clean lines make them wholly contemporary in style. Flat or low-sloped roofs often demonstrate better energy efficiency because of differences in insulation.
But flat roofs are for more than just protecting your home – a flat roof can be used for an outdoor living space, a deck, or patio. As the top roofers in Southeastern Pennsylvania, Volpe Enterprises, Inc. specializes in both residential and commercial industrial rubber roofing, EPDM, and other flat roofing types.
Request A Free, No Obligation Quote:
DIFFERENT TYPES OF FLAT ROOFING
There is no single type of flat roof. In fact, there is a wide variety available.
Since flat roofing comes in many shapes and sizes, there is a wide selection of products that can be used on flat and low slope roofs.
Whatever your design is, Volpe Enterprises, Inc. has the knowledge and expertise to install the following types of materials:
Modified Bitumen (torch down)
TPO
EPDM (ethylene propylene diene monomer)
Flat Seam Copper
Standing Seam Metal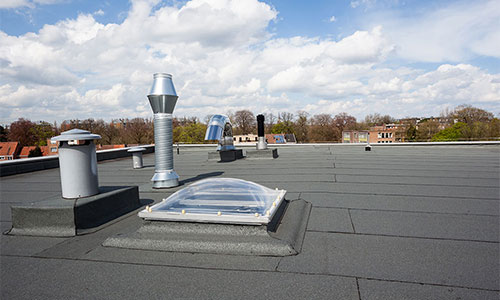 INSTALLING A FLAT ROOF
Flat roof installation is a process that involves the placement of a roofing system on a building with a horizontal or nearly horizontal roof pitch. It typically begins with a thorough inspection of the existing roof structure to make sure it's structurally sound and can support the weight of the new roofing materials. The installation process includes the laying of insulation layers, moisture barriers, and waterproofing membranes to provide a durable and watertight surface. Depending on the specific type of flat roof, additional steps such as the application of reflective coatings or the installation of drainage systems may also be installed. Proper installation is crucial to ensure the longevity and performance of the flat roof, and it requires skilled and experienced roofing professionals to ensure a high-quality result.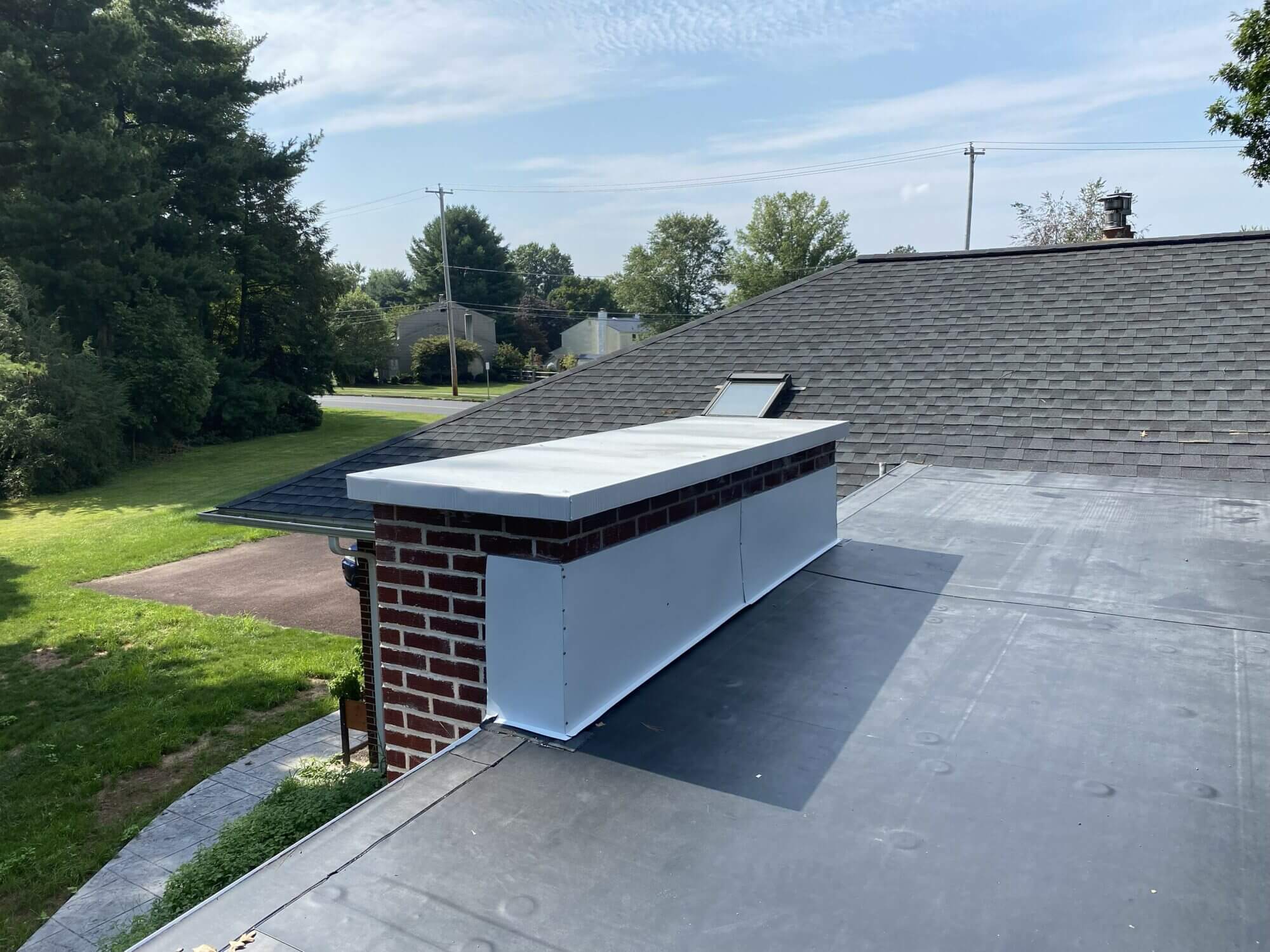 If you're debating whether a flat roof would be good for your home, let's review some advantages for you to consider.
ADVANTAGES OF FLAT ROOFING
Flat Roofing Design
Whenever you look at a house or building with a flat roof, what do you notice first? Its clean, clutter-free design makes it a stand-out choice.
Flat Roofs Have Low Maintenance
Detecting a flat roof's problems is a lot easier compared to sloped ones. Cleaning gutters is also comparatively easier. Many people select this roof type for their homes or commercial buildings because it can last years with little maintenance.
Flat Roof Cost
Flat roofs take up less space and consequently use less material than sloped roofs. Installation times are also shorter, with smaller buildings only requiring a day or two.
Eco-Friendly Flat Roofs
A flat roof does not allow heat to enter the house and keeps the building's temperature low. This significantly saves the overall cost and energy consumption.
Versatility of Flat Roofs
Some homeowners turn their flat roof sections into rooftop gardens. Flat roofs are also ideal for roof deck construction. Homeowners can use a flat roof to add a beautiful addition that also provides additional weather protection.
Durability of Flat Roofs
The average flat roof can last for more than 30 years, if properly maintained.
CALL THE FLAT ROOF EXPERTS
Every homeowner has a vision for his or her dream home, and a flat roof could be the perfect option for you.
In a nutshell, flat roofs are durable, cost-effective, aesthetically appealing, and hassle-free compared to traditional roof types. If you're looking for a roof that is fancy, sturdy, and low maintenance, a flat roof may be the right choice for you.
Flat Roofers Near You
Give us a call today for a free estimate for any of your residential, commercial, or industrial roofing needs. Volpe Enterprises, Inc. is a fully licensed, insured, and certified company that can complete any project you throw our way.
As one of the top flat roofing companies in your area, our expert roofers are incredibly skilled and take pride in their craftsmanship. A family-owned business since 1970, Volpe Enterprises Inc. has the knowledge and experience to satisfy all your roofing needs!
Is your roof damaged? It would be best if you acted quickly. Otherwise, your home belongings could suffer severe structural damage. Learn more about a roof replacement.