Flat Roofing
Flat roofing, also known as rubber roofing, is a popular and common type of roof for non-sloped to low sloped commercial and residential properties. To be considered a flat roof, a roof must have a 2/12 pitch or lower (2′ of rise over 12′ length). This is because the single most important feature of a flat roof system is its ability to hold standing water.
But flat roofs are for more than just protecting your home – a flat roof can be used as an outdoor living space, a deck, or patio. As the top roofers in Southeastern Pennsylvania, Volpe Enterprises, Inc. specializes in both Residential and Commercial Industrial Rubber Roofing, EPDM, Flat Roofing. If you're debating whether a flat roof would be good for your home, here's some advantages to consider.
 Flat Roofs Are:
Long lasting

Low maintenance and easy to repair

Inexpensive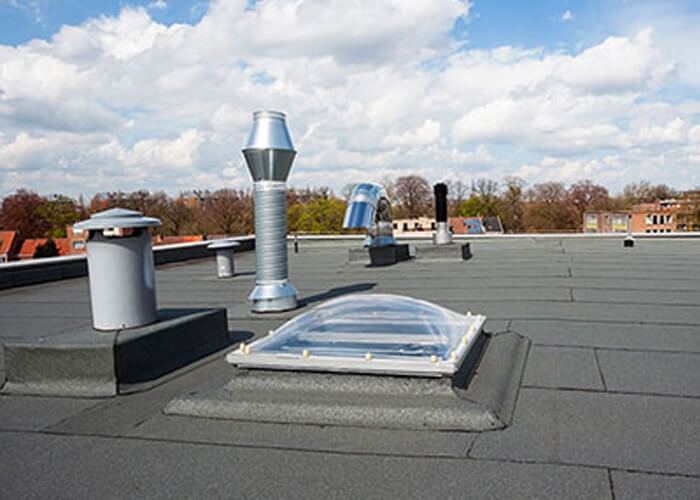 Rubber is also a dark color, which is ideal for attracting heat and retaining it during those cold winter months. On top of this, rubber roofs are versatile and can be applied in three different ways:  fully adhered, mechanically attached or loosely laid.
 Since they come in many shapes and sizes, there are a variety of different products that can be used on flat and low slope roofs. However your building is designed, Volpe Enterprises, Inc. has the knowledge and expertise to install the following types of materials:
Modified Bitumen ( torchdown)

TPO

EPDM

Flat Seam Copper

Standing Seam Metal
 Call today for a free estimate for any of your residential, commercial or industrial roofing needs. Volpe Enterprises, Inc. is a fully licensed, insured and certified company who can complete any project you throw our way. As one of the top roofing companies in your area, our expert roofers are incredibly skilled and take pride in their craftsmanship. A family owned business since 1970, Volpe Enterprises Inc. has the knowledge and experience to satisfy all of your roofing needs!
Is your roof damaged? It would be best if you acted quickly. Otherwise, your home belongings could suffer severe structural damage. Learn more about a roof replacement.