Kitchen Remodeling Overview
Volpe Enterprises believes that Kitchen Remodeling is integral to any complete home renovation. Your kitchen is the heartbeat of your home – it's where people come together, connect, and cook. As an important gathering spot, its design should be meaningful and reflect your family's lifestyle. And no matter what that is, Volpe Enterprises, Inc. is ready to make your dream kitchen a reality!
While providing great benefits for your family, a great kitchen design also helps increase the value of your home. As one of its most important features, your kitchen will have the best return on investment of any room you remodel. Because of this, you want technicians who are skilled and trustworthy to do the job right.
When you're ready to start planning your kitchen renovation, give Volpe a call. With 50+ years of home remodeling experience, we have the industry knowledge to get it done. Volpe Enterprises, Inc. offers a wide range of standard, semi-custom and custom kitchen cabinets in a variety of colors, styles, and woods. Options such as soft close drawers, wine racks, corbels, cutlery dividers, and hidden spice racks, are also available for your convenience.
If you're interested in seeing some of our kitchen designs in person, you can come visit Volpe Enterprises' showroom in North Wales. 7,000 sq ft and displaying all of our products, it'll give you a good sense of what your new kitchen will look like before it's installed. So, when the time's right, one of Volpe Enterprises' knowledgeable representatives will be happy to show you around and answer any questions you may have.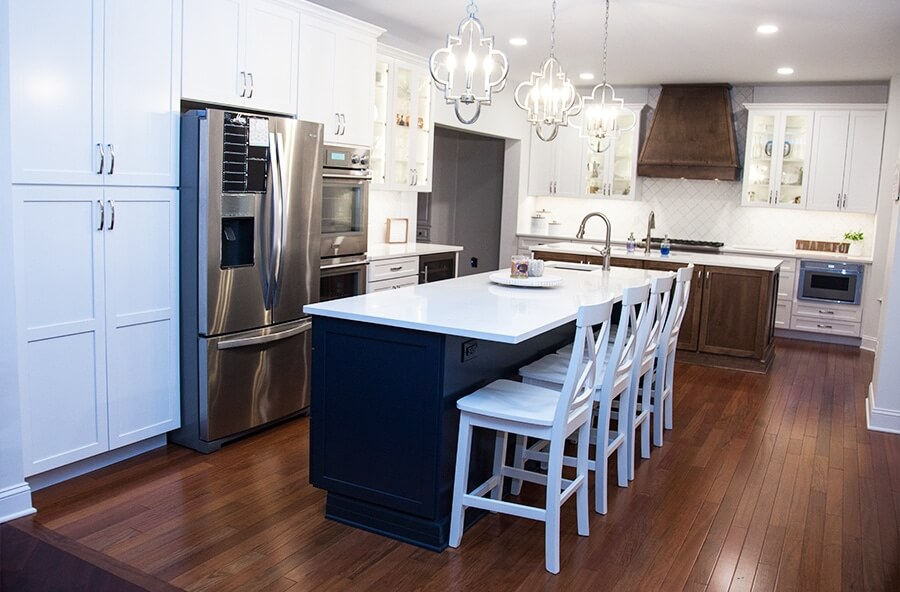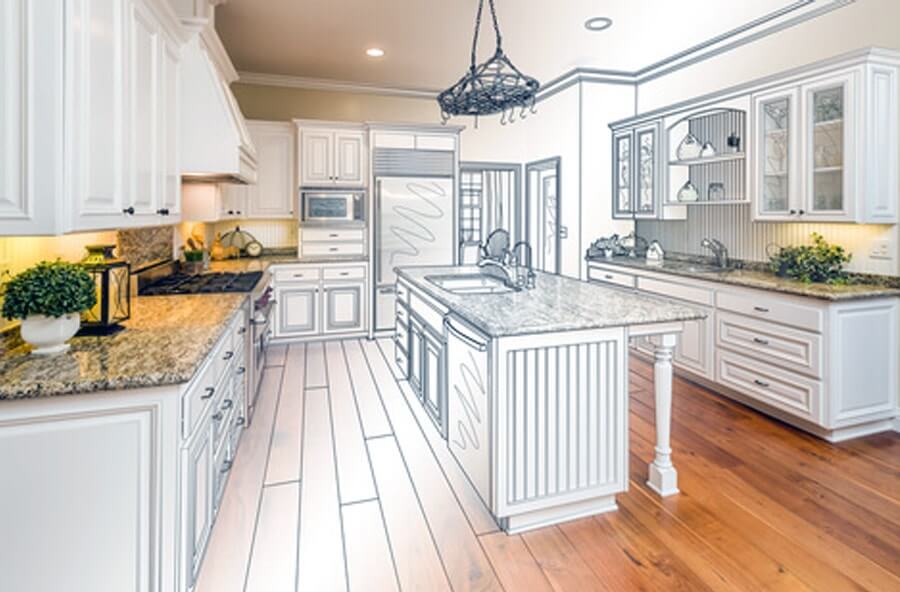 KITCHEN REMODELING – FEATURED PROJECTS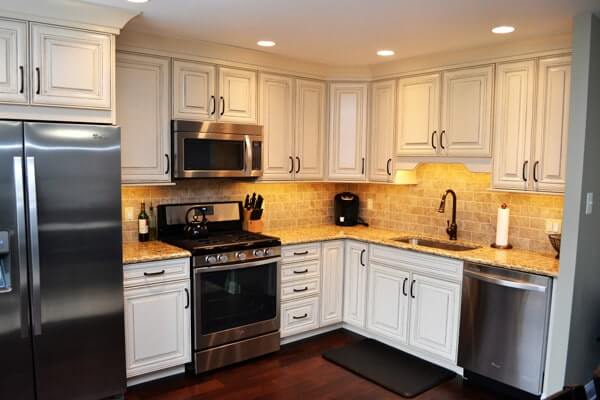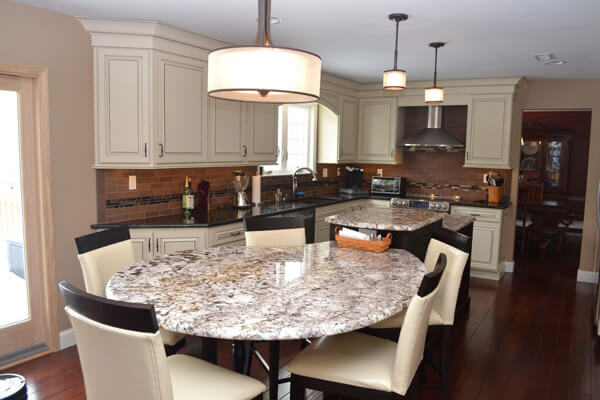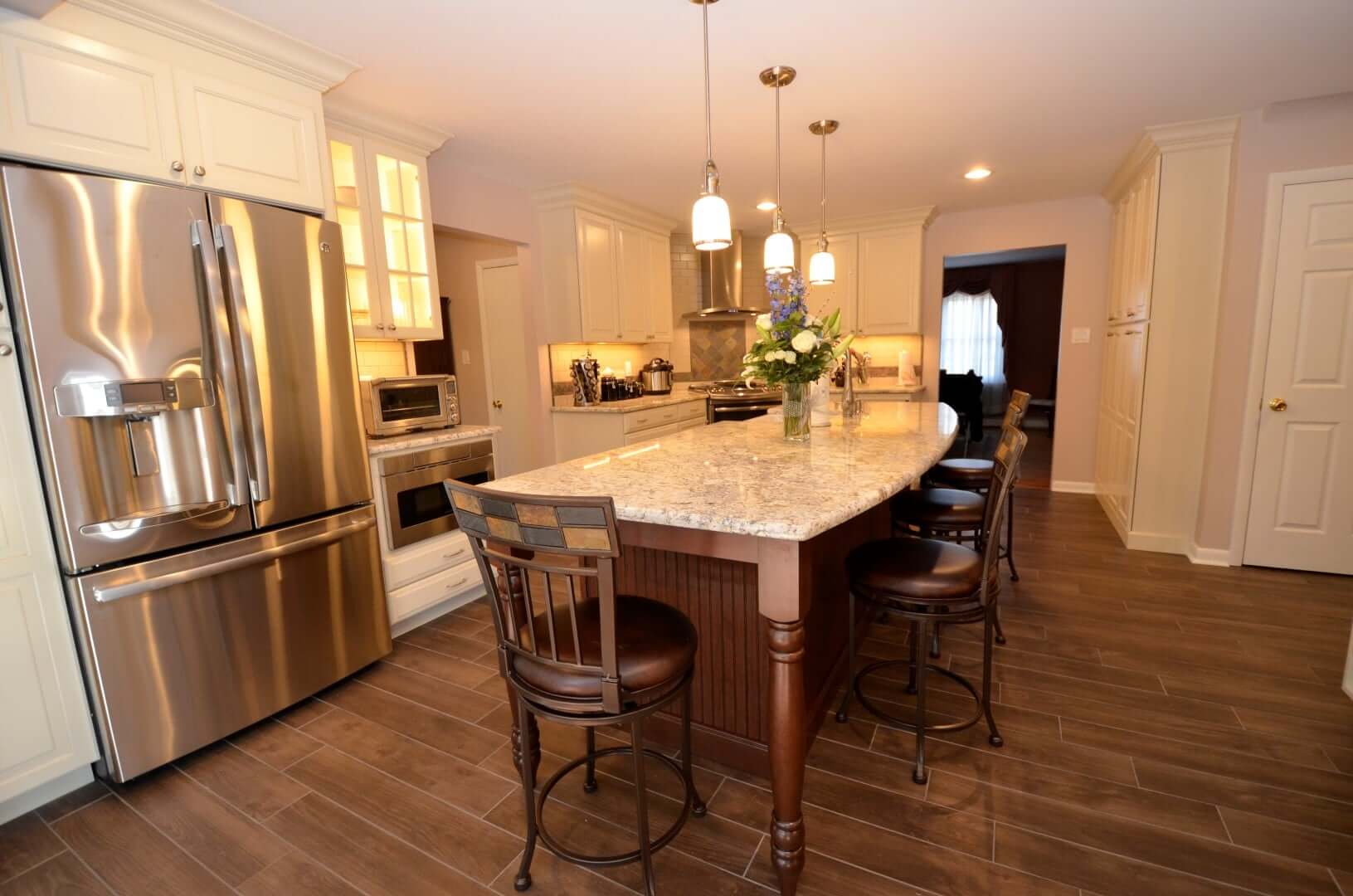 Is Renovating A Kitchen Worth It?
Some people say a kitchen is the epicenter of a house. Indeed, it's one of the most occupied places in your home. It's where you spend time preparing meals and congregating with your family. That's why you want to be comfortable and relax in that space.
If your current space doesn't meet those standards, you may feel uncomfortable practically every day for a significant part of your day. Whatever you consider a complete kitchen remodel or minor renovation, your investment may be worth it. A refurbished kitchen will increase your home value and there's also an intangible benefit, as a centerpiece of your house is rejuvenated, it will bring new freshness into the place where you spend a lot of your time.
How Much Does A Kitchen Remodel Cost?
When planning your kitchen remodel budget, one frequently asked question is related to the project cost. The cost to remodel a kitchen varies on diverse factors, such as:
size of the kitchen,

designer costs (if involved in a project),

labor costs,

location,

cabinets (stock, semi-custom, custom),

countertops,

other factors, including appliances, flooring, plumbing, electrical, gas lines, walls and ceiling, and lighting.
Do not hesitate to seek help evaluating the cost of your kitchen remodels. Volpe Enterprises experts will consider all the critical aspects of the project and then recommend the most optimal solutions. Thanks to our extensive experience, we can readily suggest various variants for your kitchen remodel project, and you make a final decision.
How Long Does A Kitchen Remodel Take?
Besides finishing standards, a kitchen size is critical to determining the length of a project. Smaller kitchen remodels usually take less time than those with extensive square footage. In addition, other non-standard elements (i.e., installing flooring, removing walls, etc.) will extend your kitchen remodeling project.
Kitchen Remodelers Will Answer Your Questions!
You already know about kitchen remodeling costs, and the typical completion time frame of a kitchen renovation project, you can now approach this challenge with significantly more self-confidence.
While many homeowners try to figure things out themselves, successful kitchen renovations usually take expertise and years of hands-on experience.
If you want to estimate your kitchen remodel costs accurately, select the best kitchen appliances, and save money on unnecessary expenses; we are here to help! Our over 50 years of kitchen remodeling experience will serve throughout your entire kitchen remodel project. Do not hesitate to seek expert advice from professional kitchen remodelers. We are here to help you accomplish the most satisfactory outcome.