A long-term commitment to building on our motto: Quality, Honesty, and Integrity.
Gary and Richard Volpe started Volpe Roofing, in North Wales, PA, in 1970. Four years later, Gary bought his brother's share of the company, and, under his guidance, Volpe became a successful full-service home remodeling company. Wanting to encompass all the services his company provided, Gary changed its name to Volpe Enterprises, Inc. in 2004.
Volpe's services have been in such high demand since that we've had to relocate nine times. Our flagship location, the North Wales Design Center office and showroom, has grown to fit a 40,000 square foot building. Housing our entire catalog of products, it allows potential customers to see roofing, siding, windows, doors, deck displays, cabinets, countertops, and more before they commit to a remodel.
Throughout the years, the Volpe family has remained committed to "quality, honesty and integrity". By providing excellent service at a fair price, our team is dedicated to forming long-term relationships with our clients. These bonds are the foundation of our past, current, and future success.
When you work with Volpe, our goal is to make you a client for life. Providing excellent customer service, we'll ensure that you're 100% satisfied with your project. This is backed in writing with our signature workmanship warranty. To learn more about Volpe's storied family history, check out our interactive company timeline. 
As a young boy, Gary's first roofing experience is on an addition to the Volpe family home in Plymouth Township. He is "hired" by his father, Vincent Volpe Jr., who operates a residential contracting company.
Vincent moves into commercial construction and Gary and his brother Rick founded Volpe Brothers Roofing. They are still in high school and the original phone number of 272-6762 is still in use by the company today. With a small investment, they purchase a 12 foot ladder and some hand tools. Their cars serve as their "trucks." They strap the ladders atop of the cars and stow the trash in the trunks. Their initial roofing customers include family,  friends, and neighbors. The first employees are high school and neighborhood friends.
Gary and Rick's first capital investment is a used Bell Telephone Company van they purchase at auction. The khaki green van is complete with ladder racks. Volpe Bros. Roofing is painted on the sides of the van in bright yellow letters. After the sudden passing of their father, Gary makes the career choice to develop the small roofing company.
Gary acquires his brother's interest in the company and is the sole owner of the newly named Volpe Roofing. He advertises in the Yellow Pages and sells roofing door to door. The focus is to provide honest, written proposals and quality roof installations at a reasonable price.
Gary marries Janet Earl and they are instant partners in life and in business. They buy a house in East Norriton Township and operate the business from a spare bedroom and their one car garage. Gary does the sales, estimating and roof installations. Janet is the first secretary and handles all company finances. Volpe Roofing becomes a Pennsylvania corporation.
Volpe Roofing, Inc. moves into a one-and-a-half-car garage on the 500 block of Buttonwood Street in Norristown. Gary purchases a pickup truck which he converts into his first dump truck.
Gary and Janet purchase a small warehouse at 56 Buttonwood St. in Norristown and move the company to that location. The first replacement window installations are completed for customers. For the first time, Volpe Roofing, Inc. exhibits in a local home show and is sponsored by CertainTeed. The company expands into siding installation and hires John Bonner as the first siding crew helper.
Volpe Roofing, Inc. needs additional space to accommodate growth. They purchase and renovate a warehouse at 530 Church Street in Norristown. Two years later, the front truck entrance is closed off and they develop the Church Street location into a rentable office building. The next corporate move is just two blocks away on West Marshall Street.
With their three sons under the age of eight, Gary and Janet work hard to grow their company to support their extended family. During the day, Gary field measures houses for roofing and siding. In the evening, he writes estimates, schedules crews and makes calls from the office in his home. Janet continues to handle accounting and office managerial duties for the expanding business. Both Gary and Janet also recognize that balancing family time and business is crucial for success and well-being.
The core values of "Quality, Honesty, and Integrity" are adopted as the company motto. The company acquires and refurbishes an 8,000 square foot warehouse on West Poplar Street in Norristown. The community embraces the renovations that rejuvenate the run-down building located in a residential neighborhood.
Until this time, word-of-mouth and the Yellow Pages are the primary methods of advertising for new clients. Innovation is essential when Volpe Roofing, Inc. is mistakenly left out of the phone book during the printing process. To create interest in Volpe's services, the company advertises on billboards and Gary creates ideas that Janet develops into unique newspaper ads.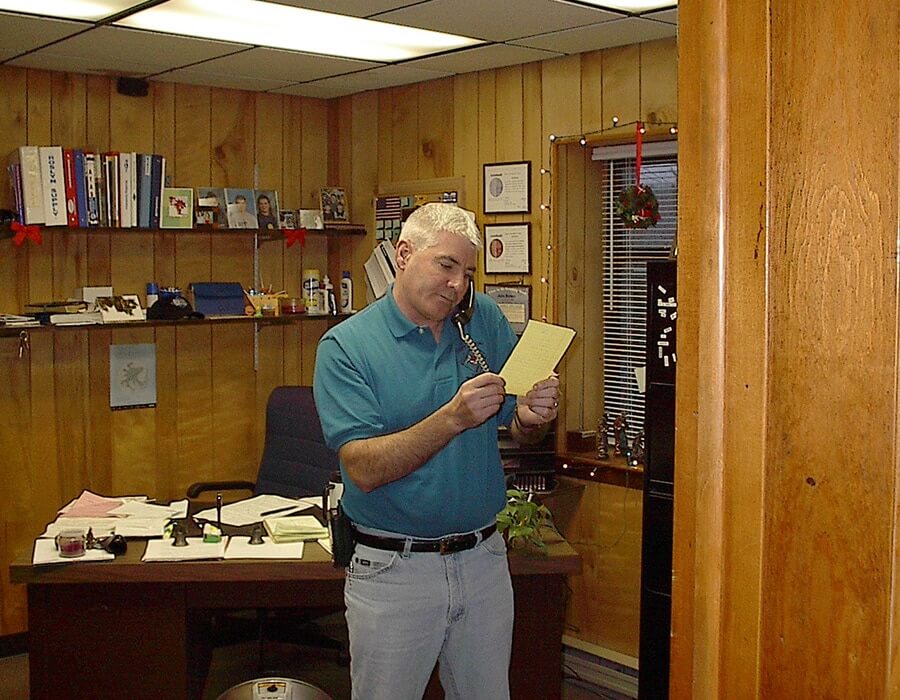 To accommodate growth and assure quality, the company split into roofing and siding divisions to allow each employee to specialize in their field. Volpe Enterprises, Inc. is formed to become the siding division and Volpe Roofing, Inc. continues to be the roofing division. John Bonner is promoted to the position of General Manager of the Volpe organization.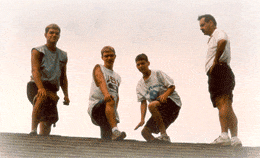 At age 11, David Volpe sketches a design idea that is developed into the company logo. The design is comprised of the company motto, a roofing hammer, a roofing axe, and a fox to symbolize the family's Italian heritage (Volpe means fox in Italian). Fourteen employees work within the two divisions.
Gary is a radio show guest on WFIL's "The House Mechanic," where a radio advertising campaign is launched. The first company website design is produced and introduced online. Windows, doors and small carpentry projects are added to the services the company provides. After a year long search, Gary and Janet purchase a three-acre property in Germantown Pike in Worcester. Oldest son Michael Volpe begins working full-time for the company, after several years of working as a part time employee.
The construction process takes one year for the new 15,000 square foot facility on Germantown Pike to be completed. The new highly visible building includes a warehouse, office space and small showroom. Volpe Enterprises, Inc, is the new brand name to indicate the company now does more than roofing. After working summers as a part-time employee, middle son Stephen Volpe starts full-time in the Spring 2004. The Volpe family initiates their first event on company grounds to raise funds for local charities.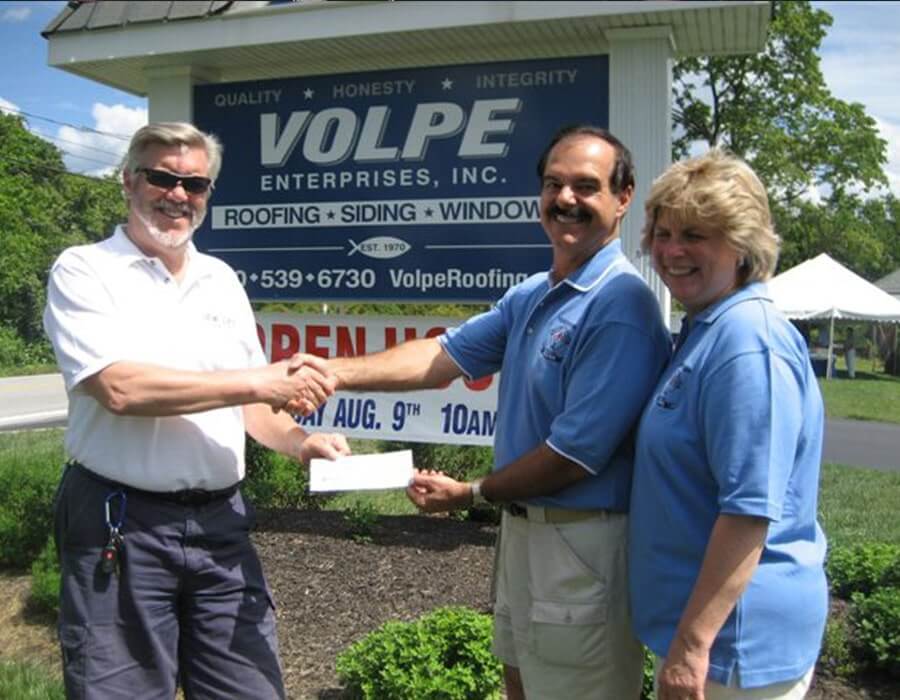 Youngest son David Volpe joins the rest of the Volpe family as a full time employee of the company. Volpe Enterprises, Inc. assembles its first sales team. The first home addition is successfully completed for a client. In a struggling economy, Volpe is able to increase their workforce by 44%. Five cable channels carry the Volpe Enterprises first TV commercial.
The Volpe family purchases and renovates a 40,000 square foot building in North Wales. A 6,000 square foot showroom is created to feature hundreds of interior and exterior renovation samples and products. The remaining space is used for warehouses and a rental unit. John Bonner is the Operations Manager and oversees all properties and equipment used by Volpe Enterprises. The company's first kitchen and bathroom renovations are completed for clients.
Volpe's Church Road renovations earn first-place exterior and second-place interior awards from the National Association of the Remodeling Industry (NARI) for commercial renovations. The PennSuburban Chamber of Commerce celebrates its 100th anniversary at Volpe Enterprises Design Center, and draws over two hundred people to the building. Additional events are scheduled to introduce the public to the company's complete line of products and services.
Michael, Stephen and David are recognized as Vice Presidents of Volpe Enterprises, Inc. in their respective departments: Finance, Sales, and Production. The second generation of Volpe brothers now run the day-to-day operation of the company. The PennSuburban Chamber of Commerce honors Volpe Enterprises, Inc. with the "Small Business of the Year" award.
In 2020, David Volpe was named the new president. Michael Volpe maintained his title as Vice President of Finance, Stephen Volpe received a new title of Vice President of Business Development.
Volpe Enterprises, Inc offers comprehensive roof repair services. We are some of the most experienced roofers in the country! Find out more at Roof Repair.