BATHROOM REMODELING AND INSTALLATION
A new Bathroom Installation is a meaningful and impactful addition to your home.  Providing your home with a fresh new look, it gives you a space that you can be comfortable and confident in. Remodeling a bathroom also increases the value of your home. Giving you a healthy and substantial return on your investment, it's a renovation that you can be confident in making.  So, whatever you envision, no matter how big or small, the experts at Volpe Enterprises are ready to help you every step of the way!
Make Your Bathroom a Place to Relax & Unwind
A good bathroom should be more than just utility – It should be a place to relax, unwind, and decompress after a long day. This is the reason modern bathrooms are designed to blend functionality with comfort and style. But even with the inclusion of just a few modest renovations, you can convert your bathroom into a relaxing getaway.
At Volpe Enterprises, we take pride in our work and have been a community pillar for over 50 years.   Our team of highly trained designers, project managers and craftsmen will work tirelessly to ensure that they deliver the bathroom of your dreams. With the ability to customize each design to tailor fit your home, Volpe Enterprises promises to deliver a long lasting and high-quality product.
If you're interested in receiving a free bathroom remodel consultation, call us! You will learn first-hand information about:
the average cost of a bathroom remodel

bathroom renovations process

labor costs

plumbing costs

other advice to make your bathroom remodeling project successful and cost-efficient!
One of our knowledgeable representatives will be happy to chat, guide you through the bathroom renovation process, and answer any questions!
Featured Bathroom Installation Projects
If you are looking for a professional contractor who will lead your bathroom remodel project in a competent manner, you are in the right place! View our finished bath remodel projects featuring high-end fixtures, new bathroom floors, and natural stone finishing. Before you ask for a project price, see the quality of our work.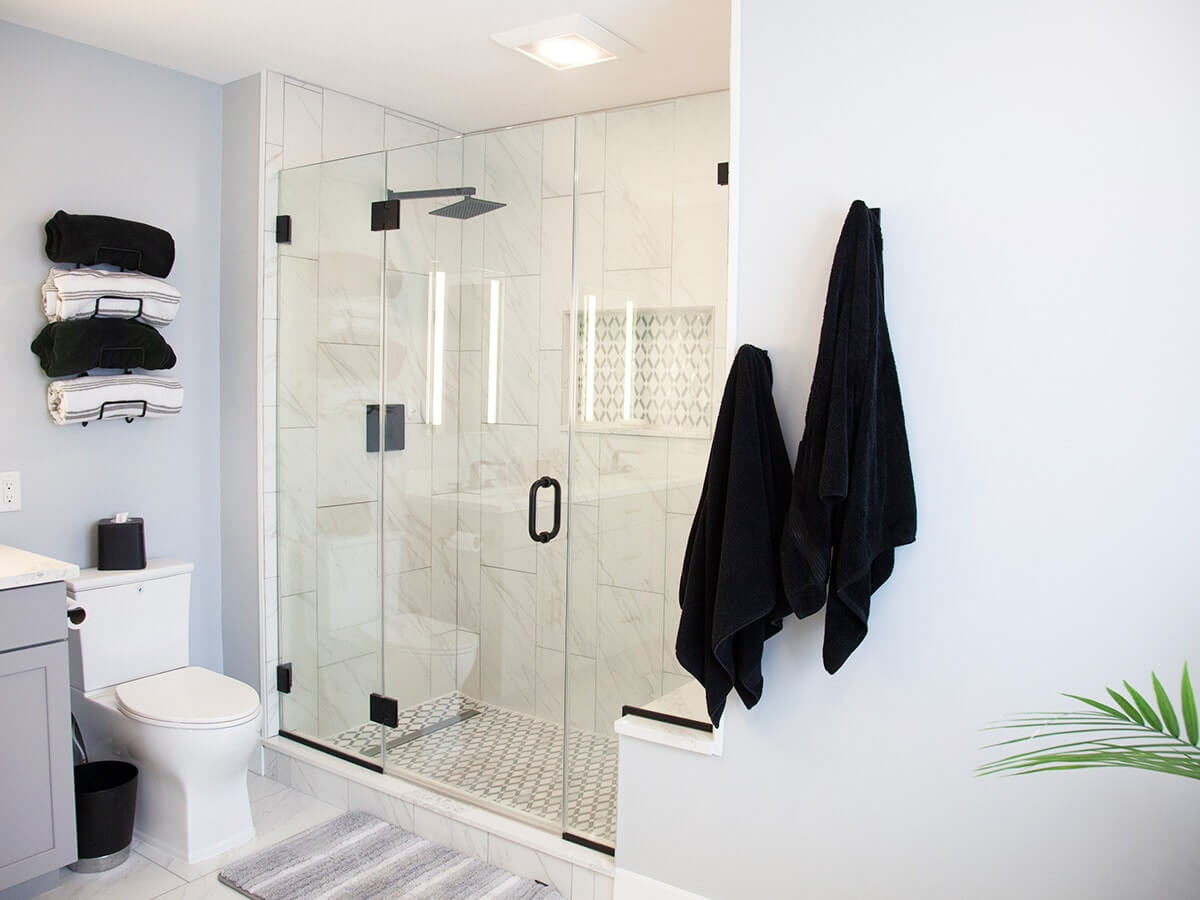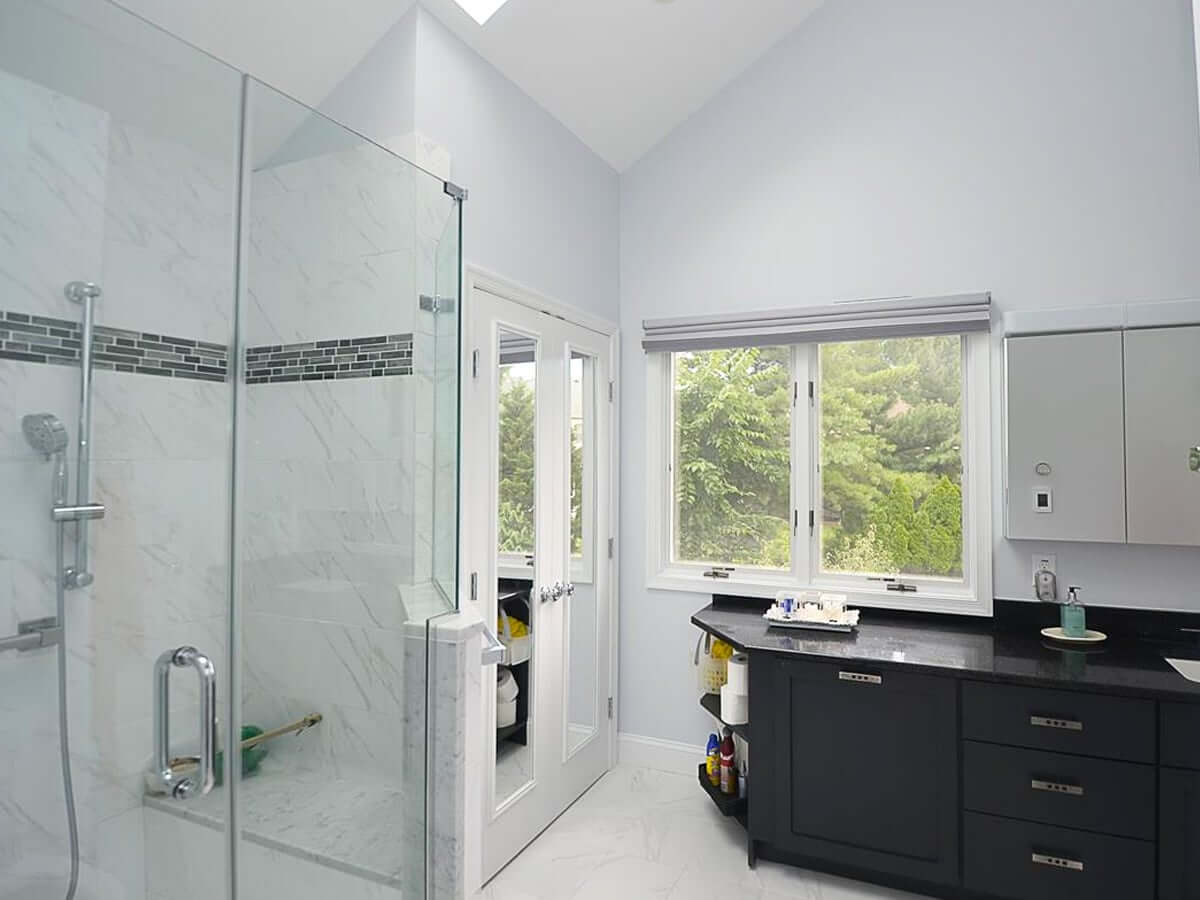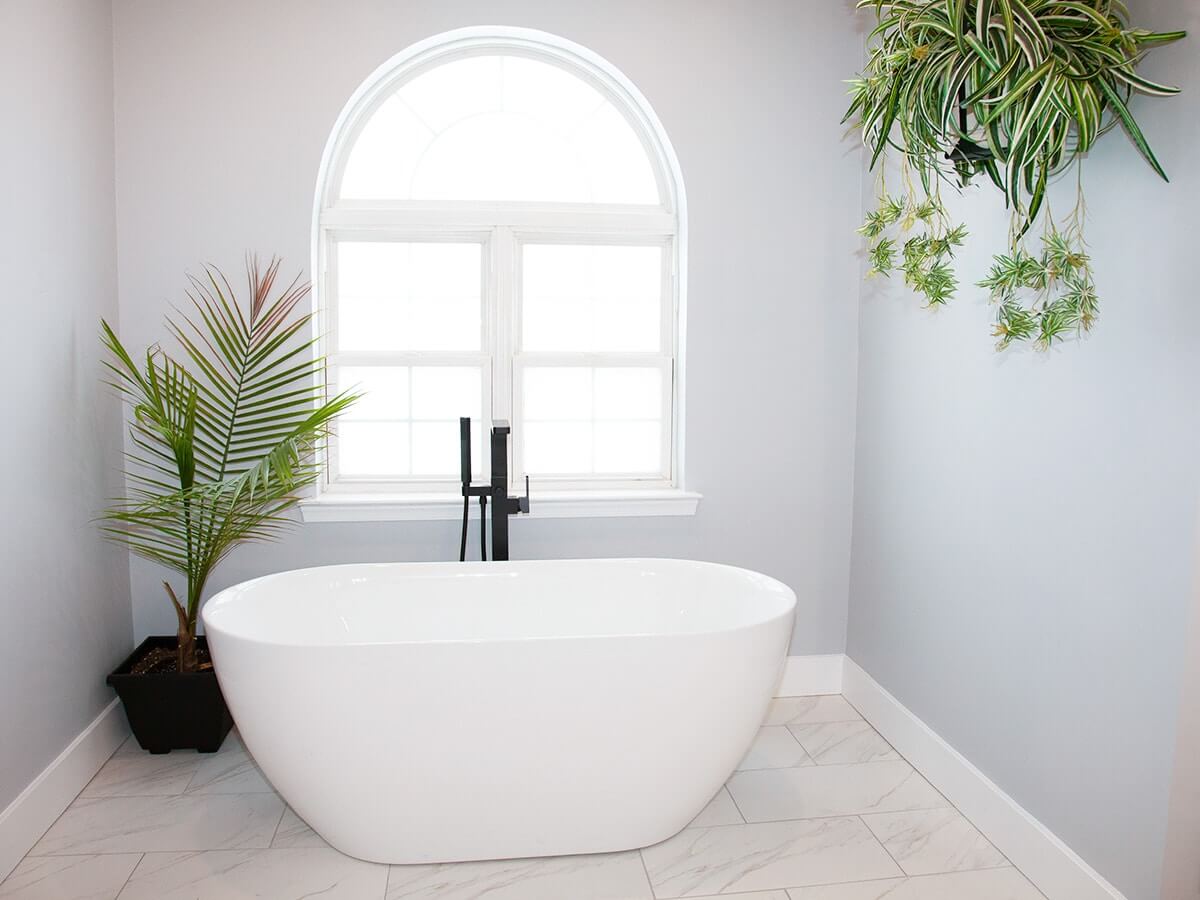 Your Guide to Bathroom Remodels
You may think of a complete remodel of a primary bathroom or a simple renovation (i.e., installing a new shower curtain or shower walls to rejuvenate your dated bathroom), but whatever your plan is, we recommend you follow some universal instructions that you will find in this guide.
In the beginning, everything may seem challenging, regardless of the project scope. Don't worry. It's enough that you learn the basics, and the entire procedure will become less stressful.
A typical range of bathroom remodels depends on numerous factors including the bathroom's square footage, the current state of your bathroom, and other variables (i.e., if electrical or plumbing work will be required).
However, you don't need to go into too many details at the outset. Homeowners should recognize some universal criteria before approaching a bathroom remodel project. Follow our guide to:
save money
find a reliable general contractor
increase home value thanks to the fantastic effects of your bathroom remodel efforts.
Bathroom Renovations – Estimate a Project Budget First!
The first step to success is determining the project budget. You don't have to be over-accurate and count every cent. Bathroom remodel costs can change over time.
Instead, estimate an average cost range for your project. First, it helps you determine what outcome you can achieve. Second, it narrows the spectrum of appliances that you can select. Third, it's advantageous for the selection of materials.
Proper budgeting at the early stage of the project will also streamline the communication process with a contractor.
Choose a Reliable Contractor
If you expect a quality bathroom remodel, you need to hire a professional contractor. Bathroom remodeling is nothing like painting the walls or trimming the grass in your garden. You won't do it all by yourself (unless you are a professional who has been here to boost your skills).
Some homeowners spend countless hours trying to remodel a bathroom all by themselves. Unfortunately, they will likely not achieve desirable effects. Don't be afraid to reach out and seek assistance.
An Average Cost to Remodel a Bathroom
Even before you determine your expectations, tell us about the budget you can allocate to the project. It will save tons of time if we know the price range at the earliest stage of the project. Don't be afraid to ask us for guidance. We will specify the bathroom remodel cost fitting your demands.
Scope of The Project
Once we have an idea of a budget, it's essential to discuss the project range. The average bathroom remodel often includes:
installation of major fixtures (new toilet, shower or bathtub, sink, bath cabinet, and faucets),

bathroom floor repair (replacement of the old tile),

electrical wiring works (i.e., installation of new lighting).
In less standard cases, your contractors will have to work with a plumber (if the bathroom remodel involves pipes, fittings, or other water apparatus that require an expert's hand). Plumbing work is indispensable for some assignments.
Many homeowners may not be aware of particular needs, which is another reason to seek expert advice.
Agree on Project Details (Style, Color Palette, and Materials)
While it's proper to start with a high-level overview, project efforts, including electrical and plumbing work, cannot begin without the materials. Now, it's time to move on to the details. At this phase:
Select the color palette.

Choose the materials and fixtures that fit your project well, then make the orders.

Set the dates!
Often you will need to distribute some schemes, for example, a floor plan or architecture sketches. Again, meeting at a home improvement site will be vital if the figures appear insufficient.
Remember that the project's total price will vary depending on your specific requirements. If there are other unexpected additional costs you have not considered before, taking a personal loan to finance your project may be a suitable solution.