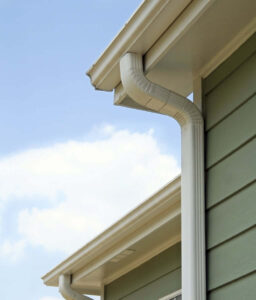 Volpe Enterprises, Inc. has implemented both small and large-scale gutter projects in Pennsylvania and New Jersey since 1970. Volpe provides gutter inspections, gutter replacements and gutter repairs for your home or business. Volpe Enterprises fabricates their standard aluminum gutters on-site using premium grade aluminum. You can choose from an array of 20+ colors to match your specific accent color on your home.
Gutters & Downspouts are available in:
Seamless Colored or White Aluminum (5″ or 6″)
Downspouts (2" x 3" & 3" x 4")
Half Round Gutters (5" & 6")
Round Downspouts (3" & 4")
Copper Gutters, Downspouts & Rain Chains
Leaf Relief® Gutter Guard
Get quick relief from the common leaf with Leaf Relief®, Alcoa's patented gutter protection. When you install Leaf Relief®, you put an end to clogs, overflows, and gutter cleaning with a system that is virtually invisible from below.
When you are considering purchasing a gutter protection product, ask the most important questions:
Does the product end frequent maintenance involved with keeping your gutters clean and free flowing?
Does the product screw or nail into the roof, which could void the roofing warranty?
Does the product look good on your home?
Is the product affordable compared to other gutter protection products on the market today?
In trial after trial, on homes like yours, the Leaf Relief® has proven effective in eliminating gutter clogging and debris buildup while maintaining water flow, even in extreme downpour conditions.  Volpe Enterprises stands behind the patented design of Leaf Relief® allows water to flow freely while leaves, pine needles, seeds and other natural debris are lifted away with only a gentle breeze.
The gutter guard system is designed to fit on any gutter size and adjust to any pitch of roof with a self-sealing fit every time. Once Volpe's professional installation is complete, you're gutters will be clean for years to come.  It keeps your gutters clean, while moving water off of your roof and away from your home.
Why Choose

Volpe Enterprises?

Quality Products
& Installation