Gutter Cleaning Services
Gutter cleaning can be a tedious and dangerous task. So, you might be better off taking a backseat and letting the pros at Volpe Enterprises service your gutters.
Gutters get clogged when leaves and twigs accumulate in your gutters and downspouts over time. This can make your gutters overflow, causing damage to the roof, fascia, and, worst of all, the foundation of your home. The good news is that you can avoid all of this water damage by following a few simple steps:
Gutter cleaning should be done at least twice a year, once in the spring and once in the fall.
Check your gutters before and after any severe rainstorms to ensure they are still clear.
Cleaning is usually simplest when the weather and debris have had a few days to dry out.
The certified professionals at Volpe Enterprises, Inc. are the best gutter technicians in your area.  Since 1970, our company has been completing small and large-scale gutter projects in Pennsylvania and New Jersey. No matter how big or small, give us a call! One of our representatives will be happy to give you a free estimate and answer any questions that you may have.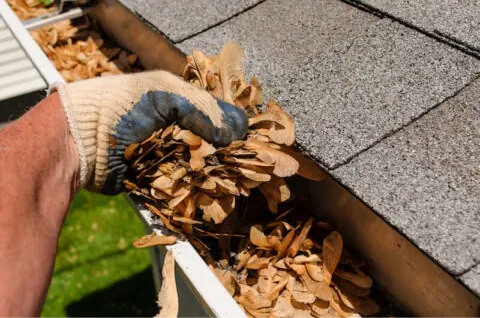 When your gutters are damaged or obstructed, rainwater will pool in areas you don't want it to, damaging your property's infrastructure. Learn about proper gutter installation. Learn more.