Maintenance Free Decks
TimberTech products will add beauty to your home. Volpe Enterprises, Inc. installs TimberTech decking because it is low maintenance, safe, durable, and can even increase the value of your home. We use only the top-rated projects in the industry to ensure your deck will last for many years.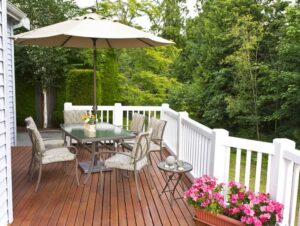 No Maintenance
TimberTech Decks maintain their color and beauty for years without the work of painting, staining or sealing. It will also resist mildew, warping and insects, so there is no need to replace rotting, uneven or termite-damaged boards. This saves time and money over the life of your deck and fence. Volpe Enterprises recommends that you power wash your deck at least once a year to remove leaves and other debris that might have accumulated during the season.
Long Standing Warranty
TimberTech decking is backed by their 25-year limited residential warranty. TimberTech's warranty offers 25-years of coverage, that isn't pro-rated. Their warranty can also be transferred to a second homeowner, which is a great selling feature when you're ready to relocate. So the first, and second, TimberTech product owners can have peace of mind that their outdoor oasis will look beautiful year after year.
Industry-Leading Products
Volpe Enterprises, Inc. offers TimberTech's complete line of low maintenance outdoor building products that are durable and made with high quality materials. Volpe offers installation of their traditional wood-plastic composite planks to PVC decking material and TimberTech's integrated railings and lighting systems to make your deck stand out from the rest.
TimberTech was the first alternative decking manufacturer to introduce a railing system with black as a color option; TimberTech was also the first alternative decking manufacturer to introduce a patented lighting system specifically created for its railing and fencing systems, providing the best fit and finished look.
Increases the Value of Your Home
When Volpe Enterprises, Inc. installs your TimberTech deck it not only adds value to your life, it adds value to your home. When you add or replace your existing wood decking material with a TimberTech deck you'll recoup much of your investment when you sell your home. Remodeling Magazine's 2009-2010 Cost vs. Value Report estimates a national average of  71% return on investment for composite deck additions*. To maximize your return, Volpe Enterprises would suggest to using a unique design that fits your home and extends your living space.
Custom Designed with Professional Installation
Volpe Enterprises will be able to meet your needs for: Maintenance Free & Wood Decking, Pergolas, Benches, Stairs, Railings, Posts, Fire Pits and other specialty items such as an enclosed hot tub area.