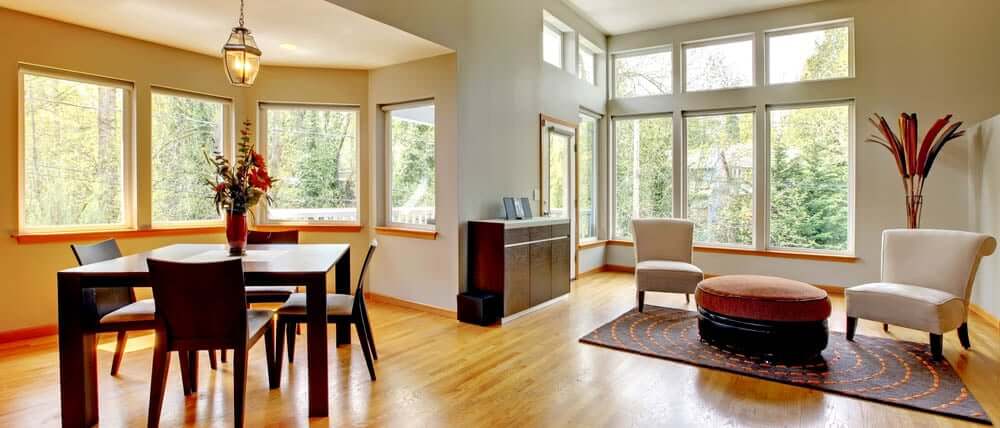 Windows Overview
For many homeowners, replacing windows can be a very intimidating job.  Whether you're replacing a handful of windows or a whole houseful, it can quickly become very overwhelming.
You might be considering new windows because you want to increase energy efficiency, enhance your curb appeal, or take advantage of new technology.  However, the more likely scenario is that you need to replace windows that are worn out, broken, stuck shut or won't stay open.  Whatever your reasons may be, Volpe Enterprises is here to help you every step of the way. 
Why Replace Your Windows?
Energy savings
Low maintenance/easy to open and clean
Add value to home
Noise reduction
Security/double strength glass
Lifetime warranty
Looks great!
From vinyl windows to wood, casement windows to bay bow, we carry a wide variety from top rated manufacturers like Andersen, Okna, Provia, Marvin, and Pella.  When it comes to choosing the right replacement windows for your home, we will be happy to show you options that fit your home and budget, right here in our showroom. 
Types of Replacement Windows
Single/Double Hung Windows
Single hung and double hung windows are very similar to each other with just one major exception. On double hung windows both sashes in the frame are operable, meaning they both move up and down. The sashes on a double hung window also tilt in for easy cleaning. On single hung windows, however, the top sash is fixed in place and does not move or tilt in, but the bottom one is operable.
Picture Windows
Picture windows are fixed windows that do not open. They are usually installed in difficult to reach places, where ventilation is not a concern, in order to let in light or areas of a room that may be susceptible to drafts.  They can be used alone, or combined with other windows, to create a portrait-like space on the wall – hence the word "picture" in their name.
Awning/Hopper Windows
Awning windows open from the bottom and swing upward via a crank. Hopper windows open from the top and swing inward and are used primarily in basement applications.
Slider Windows
A slider window is a window that opens by sliding the windows panes side to side on a track in the window frame. It's a good window style choice when the size of the window is much wider than it is high. These windows are available in single sliders with one moveable sash, 2-lite sliders where both sash move and a 3-lite slider for large openings that has a fixed picture window in the center with operable window sliders on each end.
Casement Windows
Casement windows open with a crank handle, where the window sash swings out from your home toward the outside. The window pane is hinged on one side and swings open. Casement windows provide maximum ventilation.
Bow/Bay Windows
Bow and Bay window makes a beautiful difference. These three- dimensional windows create dramatic new looks, adding style to the exterior of your home as they expand interior space, light and view. Create instant charm with a cozy bay window reading nook, or offer a graceful setting with an elegant bow window. Regardless of your choice, a new Alside Bay or Bow Window can make every home more interesting and any room more inviting.
Skylights
VELUX skylights
are an energy-efficient way to bring sunlight into a home and make dark rooms come to life. Bringing natural light into a home through a skylight decreases the need for electricity while maintaining privacy. Installing a skylight is a very effective way to enhance both the brightness and beauty of a room.
Why Choose

Volpe Enterprises?

Quality Products
& Installation