Stucco Remediation
Stucco is a material found in many of the homes in our area and can cause problems if not replaced. Stucco is absorbent, therefore when it gets wet or remains wet, the flashing can fail and the stucco would have to be repaired. In most cases, we urge homeowners to be proactive to avoid stucco remediation by replacing their homes exterior surface with improved siding products.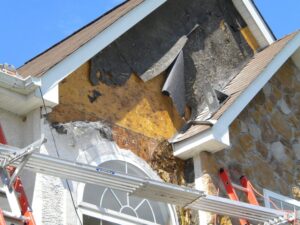 Stucco Failure
In addition to poor stucco applications, inadequate sealing around windows, doors and surface joints can allow water to penetrate into the wall system which will cause the material to fail over time.
Avoiding Water Damage
There are newer materials on the market that can provide you home with the protection it needs from the elements. Vinyl and fiber cement siding have many advantages for homeowners including:
Wide variety of colors and styles
Fade-resistant
Resistant to cracking and peeling
Added Insulation Value
Virtually Maintenance Free
Incredibly Durable
Consider Upgrading From Stucco
More and more homeowners are choosing to upgrade to other exterior options for their homes. Volpe Enterprises would be happy to talk to you about solutions for you home. Call 610-539-6730 today to discuss your project with one of our project consultants.
Why Choose

Volpe Enterprises?

Quality Products
& Installation