When it comes to a historic building, each one is a symbol of a bygone era with its unique architectural details to the finishing touches on the exterior. Whether restoring or preserving one of these beautiful structures, it's important to consider the precision and care that goes into all aspects of the building, including the roof.
Installing a Roof on a Historic Building
Installing roofing on historical buildings has its challenges. Historically, roofing materials have had flaws. While slate lasts 100 years or more, it can be heavy, putting stress on what could be a fragile structure. Wooden roofs will eventually rot and clay can become fragile, while early asphalt shingles lack the durability of modern shingles. Luckily, there are modern options that can give you historically accurate-looking options for your roof without the fear of destroying your structure.
In addition to the struggles in maintaining the material and structure itself, there are also other considerations when working with historical buildings. Many older buildings fall under historical preservation guidelines, which provide stringent requirements to maintain the architectural style and integrity of the building.
Historic Building Roofing Materials
When putting a new roof on an old building, the biggest challenge is to pair the roof with the most historically accurate shingle.
If you are restoring a mid-century home, you may wish to opt for 3-tab shingles, which as still on the market. These asphalt shingles have a limited lifespan of 15-20 years but are the correct roofing material for the time period.
Three-tab shingles have been replaced in recent years in favor of architectural shingles, which are more attractive and also asphalt. Architectural shingles aren't the most historically accurate shingles, but they're less expensive than other materials, and they do a good job of mimicking the style of cedar or slate shingles. These asphalt shingles can have a warranty of up to 50 years, and with the right color choice, can create a pleasant look that won't detract from the historical nature of the building.
For those looking to create a more historic look on a colonial or early 1800s home, cedar shake roofing is perhaps one of the most accurate materials to install, because its manufacturing and application have not changed much in the last two hundred years. It's lightweight, historically accurate to many homes built before 1900, and has the bonus of being a biologically friendly and sustainable material.
Cedar shake shingles are still installed today. A beautiful roof that's as much a work of art as it is a functional necessity, cedar shake roofs have a lifespan of 20-25 years. Their warm wood shakes turn a patina gray as they age.
Synthetic cedar shake shingles are an aesthetically pleasing way to keep the historic look of the building while adding a longer-lasting roofing product with none of the maintenance of cedar.
Synthetics have come a long way and now are available in convincing look-a-like shingles of multiple colors and styles. Synthetic cedar roofing offers the advantage of having a class A fire rating, wind ratings up to 100 miles per hour, and a class 4 impact rating.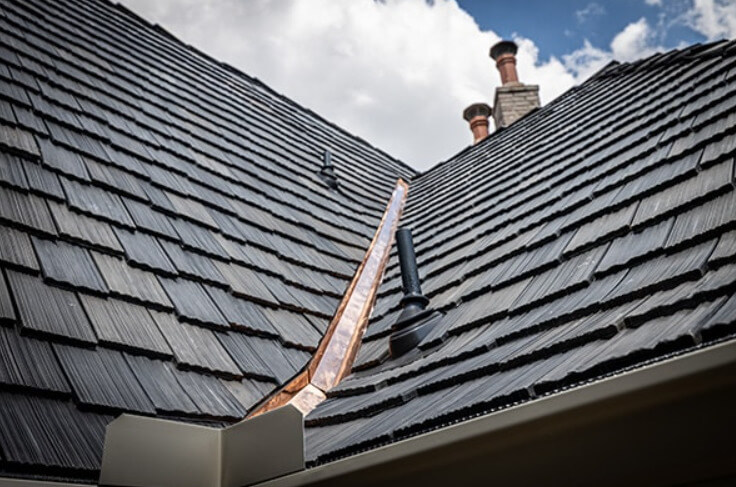 Traditional slate roofs are beautiful and have been used on castles and military buildings since the 1400s. In the 1600s, the material made its way to the United States. By the mid-1800s, it was mass quarried and used on homes. It's an incredibly durable roofing material but also incredibly heavy.
Slate has an exceptionally long lifespan which means that there are still original slate roofs that may be functioning just fine, but an original Victorian home with a slate roof is rapidly reaching its end.
For these homes, synthetic slate roofing is a much lighter product that's just as beautiful and indistinguishable from the original. The lightweight synthetic slate shingle is extremely important, as it puts less stress than traditional slate on an already aging structure. The application of the slate is also much less labor intensive.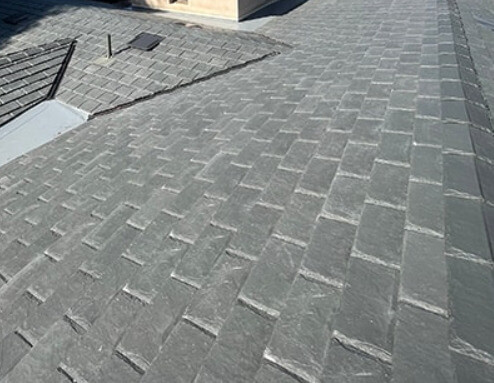 Regardless of the decade, roofing on historical buildings can feel like a daunting process. Once you know what roof the building originally had, it's easy to match up a style to a modern material that will make your historic property look new again.
There are many options to keep your historical home or building looking as accurate as possible. Whether you're restoring a home from the 1800s or the 1950s, Volpe Enterprises can help you with your historical project.  Contact us today!